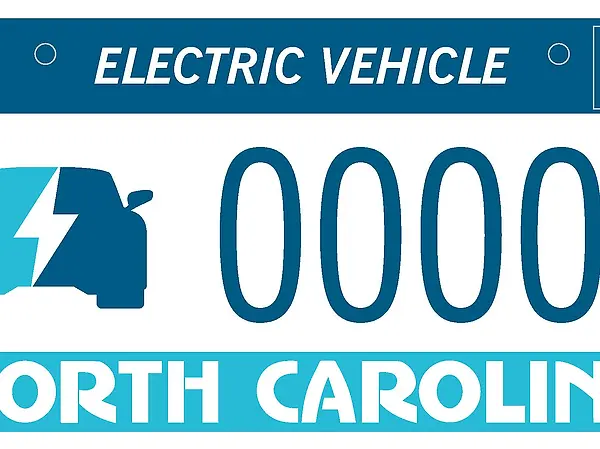 News Article
License Plate FAQ
Thank you for your interest in the North Carolina specialty electric vehicle (EV) license plate campaign! Below are answers to some questions we've received.
Can I get this plate if I do not drive an EV?
Yes, there are no restrictions on who can get the plate, though its intended purpose is to spread awareness that a given vehicle is electric.
What are the next steps of this effort?
In December 2021, we collected our 500th application, the minimum required to keep the process moving. However, we are still happy to accept more submissions. You can access the application and directions on filling it out here.
At the same time, we've provided documentation about the license plate to the NCDMV, who has passed this information on to the N.C. General Assembly. The General Assembly will vote on whether to approve the plate. The plate unanimously passed the House (it's on a bill with a few other hopeful specialty designs) but is currently stalled in the Senate.
Assuming it passes, we'll then submit the collected applications to the NCDMV, and the plate will be finalized and issued.
When can we expect to receive the plate?
Because we are still waiting for our plate to be passed as a bill in the General Assembly, it is hard to say when it will ultimately be delivered, but we will inform people as soon as we know anything.
What happens if we do not get enough support?
We are committed to seeing this license plate campaign to the end. If for some reason it falls through this year, we'll carry the momentum into next. We'll be sure to keep everyone updated on our progress.
How much does the license plate cost?
The standard specialty license plate will cost $10 annually (due in addition to regular license fees). A personalized version of the plate, where you choose the characters, will cost an additional $30 (for a total of $40 annually). These fees are required by the NCDMV for specialty designs.
However, we have secured funding to cover applicants' initial $10 fee.
How many characters are displayed on the license plate? Will we be able to request specific ones?
The license plate, like all North Carolina specialty plates, has four character spots. The vertical "EV" will appear at the end of every plate.
With the standard $10 version of the plate, you do not get to choose specific characters. If you want to have this option, you will need a personalized version, which costs an additional $30 annually. When requesting a personalized plate, the license plate application asks for your top two preferences. It will likely take several months to find out which choice went through.
Do we have any choice over the colors used on the plate?
The license plate design must be very specific and does not leave room for adjustments. We'll need to move forward with this particular design (including its color).