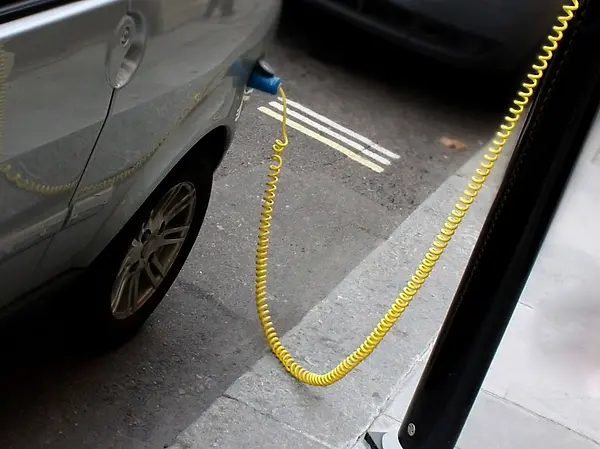 News Article
A Profusion of Solutions for EV Charging
Article provided by the California Plug-in Electric Vehicle Collaborative.
A Profusion of Solutions for EV Charging
"Build in flexibility and the capability to grow," said Rachel Moses of Greenlots, during
the Plug-In Electric Vehicle Collaborative's August webinar Paying for the Juice. Her
advice was echoed by other electric vehicle charging equipment and network providers
who discussed ways to structure and manage electric vehicle charging.
Payment and billing options included point-of-sale credit card swipe; payment via mobile app; phone customer service; radio-frequency ID devices such as employee badges; homeowners association parking fees; payroll deductions for workplace charging; and driver or site host's utility bill.
Lyuba Wolf of ChargePoint noted that owners of charging stations could use pricing to
achieve different goals:
• Free – helps attract and retain employees and customers
• Charge for Charging ($/kWh) – allows owners to be reimbursed for electricity costs
• Charge for Parking ($/hr) – encourages drivers to move their vehicles when done
charging
• Taxi Pricing (tiered pricing where rates increase after a set number of hours) –
really encourages people to move when charging is complete. For example
someone may pay $1/hour for the first 4 hours and then $5/hour after that.
ChargePoint sells charging station hardware that is "networked" allowing the owner of
the station (site-host) to monitor the use of the station and set pricing that is paid
according to the site-host's priorities.
"Buildings have a finite amount of power that can be allocated for EV charging," Kyle
Lyons of EverCharge explained. Once this is used up, costly upgrades are required to
meet increased demand. EverCharge provides a power management solution that
maximizes available power and achieves lower installation and operation costs by
minimizing the occurrence of demand charges. Typically, a building with 100 amps in
common-area power would be able to support 3 to 4 chargers, while EverCharge can
add up to 10 chargers. EverCharge offers apartments and condominiums a fully
managed service including driver billing and property reimbursement, ongoing
maintenance, customer support, and insurance.
"We work to put the right chargers in the right places," Heidi Krantz said of NRG eVgo's
mission. Price certainty and affordability are key objectives. The company provides a
turn-key approach for apartments and condominiums, workplace, and at-home charging, each with its own pricing plan consisting of a fixed monthly fee, as well as variable charging fees for multiunit and workplace users.
Rachel Moses noted that the type of hardware the site host chooses to install would
determine the costs associated with charging. Also, "it's really important to understand
best and correct practices for conducting site surveys and assessments, which will
really help with understanding how installation costs can be optimized."
Greenlots' open standard networking lends itself to having different types of charging
hardware. The capability to vary the type of charging is also important. A fast charging
station in Atlanta provides juice to the public at one fee and to the owner's fleet drivers
and employees at a different fee. The site host can also set different rates based on the
time of day.
"We are big proponents of non-networked charging," said Charlie Botsford of
AeroVironment. Not that the company is anti-network. Its EV charging includes the West Coast Electric Highway, as well as networks in California, Texas, Indiana and Hawaii. Nonetheless, Charlie touted non-networked charging as a cost-effective solution for many workplaces, apartments and condominiums, and fleets. Benefits include no network fees, lower equipment costs, and higher reliability. Still, he acknowledged, "one size does not fit all." Hosts need to determine their goals and put together a longer-term plan that allows for growth.
For more information and to see the slides from the webinar, please visit
http://www.pevcollaborative.org/webinars_2015 or contact Lisa Chiladakis, Manager,
Technology and Programs, PEV Collaborative at lchiladakis@pevcollaborative.org