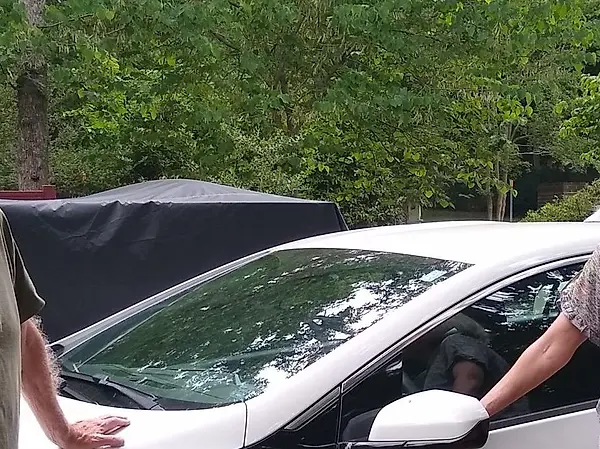 News Article
Ambassador Spotlight: Kitty and Mike Dalton
From the small town of Carrboro, Kitty and Mike Dalton are a semi-retired couple who are passionate about reducing their carbon footprint. They are avid campers and like to hit the road with their dog, which plays a big role in their car-buying decisions.
How long have you been driving electric, and why did you decide to make the switch?
We bought a new Chevrolet Volt plug-in hybrid electric vehicle (PHEV) in 2016. We already had a 2007 Jeep Grand Cherokee with a diesel engine, which we used for towing our camper trailer. But the collapse of the "green diesel" movement led us to consider electric vehicles (EVs). Luckily, Carrboro still operates a biodiesel pump at its Public Works facility and our Jeep has more than 220,000 miles on it!
How did you decide which EV(s) to buy? What stood out to you?
When we first started looking at EVs, the range of battery electric vehicles (BEVs) was so low that the plug-in hybrid technology seemed like a good compromise. One reason for buying the Volt was that it was more affordable than some of the others and still qualified for the $7,500 tax credit. Because our other car runs on biofuels, we decided we would just use the Volt as our "around town" car and charge it after each use so as not to use the gasoline.
What's your favorite thing about driving electric?
Besides not using fossil fuels, we like how solidly built and zippy the Volt is.
Have you taken any road trips in your EV?
Because the electric range of the Volt is only about 50 miles, on rare occasions we have used the gasoline engine when exceeding the range instead of charging it somewhere.
Where do you charge?
At first, we plugged the Volt into the 120-volt outlet at our home overnight but recently had a 240-volt charger installed in our driveway, which does the job in a few hours (the Volt does not have a DC fast charge port).
Are there any challenges you've faced driving electric?
One time the Volt's electric engine did not start and automatically switched to the gas engine. We were able to drive it to the dealership, which said that this was because of a recalled part. Unfortunately, that part was delayed because of supply chain issues, so it took a couple of months.
Do you have your eye on your next EV yet?
We have decided to buy a BEV and not a PHEV for our next car. We are interested in the Ford F-150 Lightning because it has a longer range than the Volt and the towing capacity/package we need for our camper. We also like the thought of being able to use it as a generator for boondocking or for our house during a power outage. The price of the Lightning, while expensive, seems to be affordable for all its features and potential tax credit savings. We made a reservation in May 2021 and were initially told that orders would begin in October 2021. But that was pushed to 2022 and the company capped its reservations at 200,000. We realize we may need to wait until the fall (or later) to receive one.
Interested in becoming a Plug-in NC ambassador? Click here to sign up.