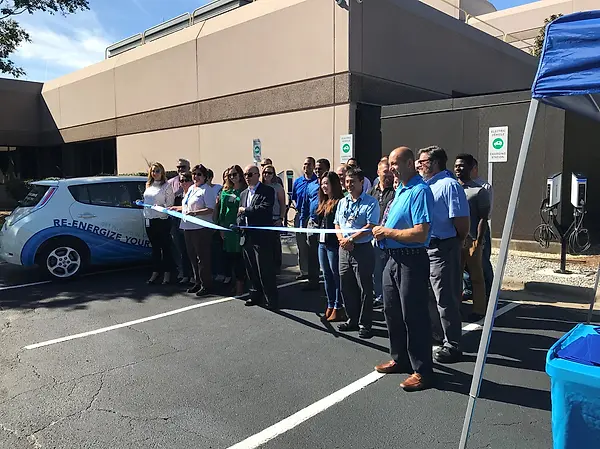 News Article
Biogen Holds Ribbon Cutting for New Charging Stations
Biogen recently installed four electric vehicle charging stations at their facility at 900 Davis Drive, Research Triangle Park, North Carolina. To celebrate the official opening of the charging stations, Biogen worked with Advanced Energy to plan a ribbon cutting and electric vehicle showcase.
The event took place on Thursday, October 19, 2017 from 10 a.m. to 2 p.m. on a beautiful fall day. Local organizations, including Plug-in NC, set up informational tables that focused on electric vehicles, solar and sustainability, while local dealerships displayed electric vehicles and provided test drive opportunities. Electric vehicles at the event included Tesla Model X, Tesla Model S, BMW i3, Porsche Cayenne Plug-in Hybrid, Cadillac CT6 Plug-in Hybrid, Chevrolet Bolt, Chevrolet Volt, Nissan LEAF and Ford C-Max Energi.
At noon, the official ribbon cutting for the new charging stations took place. Miles Devaney, senior director, site operations, Biogen gave a speech that highlighted Biogen's commitment to sustainability and environmental stewardship. He explained the importance of electric vehicles and how offering charging options to employees was an additional way to further support their sustainability goals. Biogen staff then gathered together for a photo and the official ribbon cutting.
As part of the event, a survey was distributed to attendees to gauge their familiarity with and interest in electric vehicles. Full survey results are available below in the report. A few highlights include:
67 percent had no experience with electric vehicles, meaning they had not researched, test driven or purchased an electric vehicle.
71 percent stated that they will consider or definitely will purchase an electric vehicle as their next car.
74 percent said that the most important electric vehicle benefit is fuel savings. This was followed by 45 percent who chose environmental benefits.
70 percent said they would use electric vehicle charging stations at work.
It was a 50/50 split on whether or not respondents believed electric vehicles would save them money on maintenance.