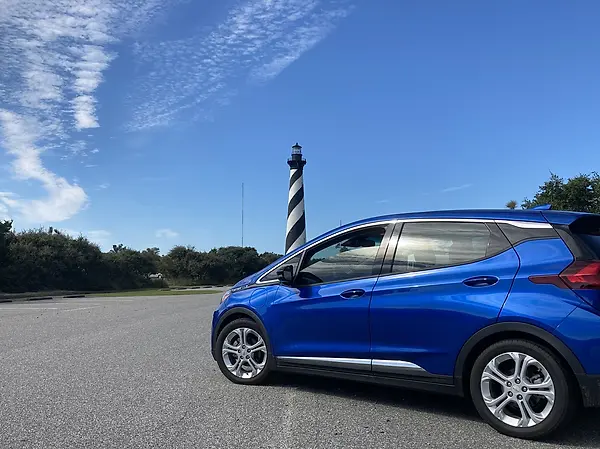 News Article
Congratulations to Plug-in NC's EV Views Winners!
This summer we hosted our first ever EV Views photo contest, an opportunity for EV drivers to show off their cars at scenic locations. The goal was to highlight the exciting places visited by our supporters and to dispel myths about the traveling capabilities of EVs. More than 25 drivers submitted photos of their adventures, capturing locations from the western part of our country to the coast of North Carolina, and more than a dozen EV models were featured. After the submission period, we asked our followers to vote for their favorites.
It was a tight competition, but we revealed three winners in August…congratulations to Raj Patel, Chris Brown and Barry Henline! Each received a $100 gift card to one of the following charging-friendly destinations in North Carolina: Sylvan Heights Bird Park, North Carolina Zoo or Sierra Nevada Brewing Co. Check out their victorious shots below, followed by the rest of our entrants. Thank you to everyone who participated — hopefully we get an even larger collection of photos next year!
Raj Patel – Blue Ridge Parkway, NC
"Excited and optimistic that EV will help keep the beautiful views of the Great Smoky Mountains clear and pollution free for all to enjoy."
Chris Brown – Kill Devil Hills, NC
"We love to drive along Bay Drive overlooking Kitty Hawk Bay to catch an Outer Banks sunset, especially during the summer months. It's exciting to see more and more of our neighbors starting to drive electric!"
Barry Henline – Statesville, NC
"Passing by this 'scenic' spot in mid-April. Car caught my eye, and I turned in to get this shot. My 2022 Kia EV6 next to a fully restored 1929 Ford Model A. Only 93 years of history and technology in between."