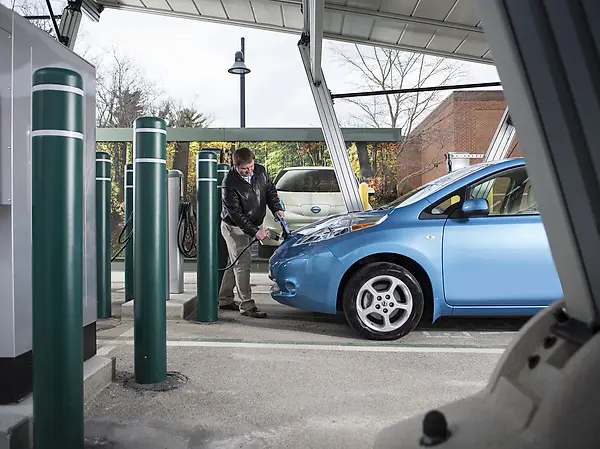 News Article
Duke Energy's Charging Infrastructure Program
NEWS RELEASE – Duke Energy
Contact: Randy Wheeless
Office: 704.382.8379
24-Hour: 800.559.3853
Twitter: @DE_RandyW
July 12, 2016
Duke Energy's $1.5 million program aims to increase public electric vehicle charging in N.C. by 30 percent
$1 million to fund public charging stations
$500,000 for electric bus charging for transit agencies
CHARLOTTE, N.C. – The number of public electric vehicle (EV) charging stations in North Carolina will jump 30 percent thanks to a new project from Duke Energy.
Duke Energy's "EV Charging Infrastructure Support Project" will provide $1 million to help cities and towns develop public charging stations for residents. Duke Energy will pay 100 percent up to $5,000 per charge port; $20,000 per site, or $50,000 per city under the program.
"Over the past decade, Duke Energy has supported the development of several hundred electric vehicle charging stations in North Carolina," said David Fountain, Duke Energy's North Carolina president, "Adoption of EVs depends on a robust infrastructure for consumers."
Duke Energy has been active in building public charging stations at parking decks, libraries and shopping areas. According to Advanced Energy, an independent, non-profit organization established by the North Carolina Utilities Commission, there are about 4,700 registered plug-in EVs and about 700 public charging ports spread out around North Carolina.
"Today is a perfect time to begin thinking about and planning for electric vehicle charging," said Dr. Robert Koger, president of Advanced Energy, "Duke Energy's new program will give communities the opportunity to provide a new amenity for residents and visitors that also benefits the local economy and air quality."
Another part of the project is an additional $500,000 devoted to cities and towns for the construction of electric bus charging stations. Again, Duke Energy will pay 100 percent for electric bus charging infrastructure up to $250,000 per entity.
The programs are targeted to cities and towns, which include both retail and wholesale customers. Interested parties may apply, but are not obligated to proceed if selected as a recipient. The deadline to apply is Sept. 1. Interested parties can download the public EV charging form here. The bus charging form can be downloaded here.
If you have additional questions about the programs, email PlugIn@Duke-Energy.com.
The programs are part of a recent settlement with the U.S. Environmental Protection Agency and environmental groups.
About Duke Energy
Headquartered in Charlotte, N.C., Duke Energy is an S&P 100 Stock Index company traded on the New York Stock Exchange under the symbol DUK. More information about the company is available at duke-energy.com.
The Duke Energy News Center serves as a multimedia resource for journalists and features news releases, helpful links, photos and videos. Hosted by Duke Energy, illumination is an online destination for stories about remarkable people, innovations, and community and environmental topics. It also offers glimpses into the past and insights into the future of energy.
Follow Duke Energy on Twitter, LinkedIn, Instagram and Facebook.
###