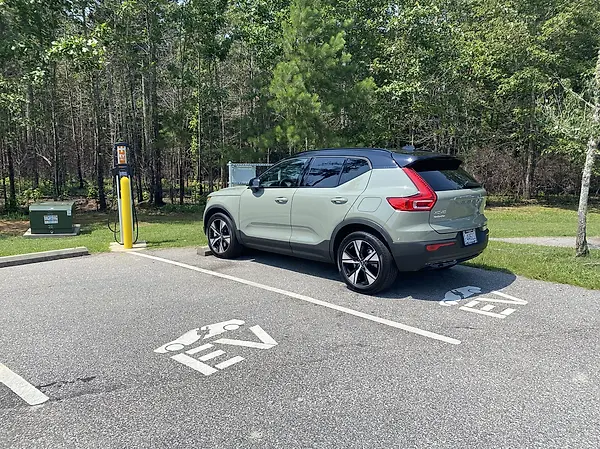 News Article
Electric Transportation in North Carolina: A Recap of 2021 and Look at 2022
2021 was a huge year for electric transportation in North Carolina. Drivers got their hands on legitimate long-range electric vehicles (EVs), such as the Volkswagen (VW) ID.4 and Ford Mustang Mach-E, and preordered exciting new ones, including the Ford F-150 Lightning and Hyundai Ioniq 5. We also saw large increases in public charging across the state, with DC fast charge stations filling major gaps (Tarboro, Asheboro, Boone, Elizabeth City, Henderson and others).
As part of the North Carolina Department of Environmental Quality (NCDEQ) VW Mitigation Settlement, there was the successful awarding and introduction of DC fast charging (45 plugs), Level 2 charging (more than 260 plugs) and electric transit buses (11). And electric utilities throughout North Carolina doubled down on EVs with rate-design offerings, charging infrastructure rebates and public charging installations. This includes North Carolina's Electric Cooperative's deployment of chargers — 12 DC fast and 11 Level 2 — and Duke Energy's $25 million pilot, which is supporting public Level 2 and DC fast charging, multi-unit dwelling stations and school bus electrification.
Electric transportation made a major economic development impact as well. In addition to the many EV-related company headquarters and manufacturing facilities that the Old North State has to offer, Toyota announced a $1.3 billion (with a B!) battery manufacturing plant in the Triad. Once operational, it will be capable of supporting 200,000 EVs. Furthermore, British-based EV transport company Arrival revealed a "High Voltage Battery Module" assembly plant in Charlotte that will be the company's third facility in the area.
Here's what has our attention for 2022:
Vehicles: The Race for the Electric Truck Segment, More Long-Range Options, the Question of Availability and Supply Constraints
Will North Carolinians' interest in Rivian R1Ts, F-150 Lightnings and Ioniq 5s be met with sufficient supply? Will the electric truck race create consumer demand in new segments and demographics? Will it jolt adoption throughout the state? Will automakers be able to get consumers behind the wheel of new EVs, including the Kia EV6 and Nissan Ariya?
Historically, North Carolinians have only had access to a portion of the EVs "available" in the North American market. Hyundai Konas, Toyota RAV4 Primes, Kia Niros and other popular models have been difficult for people to get their hands on. This situation is largely due to the limited supply from manufacturers and the emphasis on vehicles going to "Zero-Emission Vehicle (ZEV) states." This has an impact on the used market, too. With the well-documented hurdles affecting nearly every manufacturer offering, how will the already limited EV supply influence consumer choice?
Executive Order 246
Signaling a quick start to the new year, Gov. Roy Cooper signed Executive Order 246 in January. The order calls for, among other transportation and climate initiatives, at least 1.25 million light-duty ZEVs in North Carolina and at least 50% of new light-duty sales to be ZEVs by 2030. The order also instructs state cabinet agencies to prioritize environmental justice, equity, clean economy and climate priorities in budget decisions. This standard environmental justice and stakeholder engagement should be a great primer as we prepare for what's to come with federal infrastructure funding.
Phase 2 of NCDEQ's VW Mitigation Settlement — Twice the Stakes
The implementation of Phase 1 of the VW Mitigation Settlement was met with excitement from stakeholders, electric transportation advocates and applicants across the state. As we noted above, NCDEQ's first phase of the Mitigation Plan led to dozens of DC fast charge and Level 2 stations; it also supported the electrification of 11 transit and 6 school buses. With Phase 2 launching in early 2022, there's even more on the table for electric transportation opportunities.
Where the first phase presented approximately $28.5 million in eligible funding for medium- and heavy-duty vehicle replacements, non-road vehicle replacements, charging infrastructure and more, the second phase offers $67 million. And while the diesel bus and replacement program still allows other vehicle types (including diesel), NCDEQ has taken stakeholder feedback into account by emphasizing electric replacements. This will be especially encouraging given that only a few applications were submitted for electric school buses in Phase 1.
The second phase will also permit existing charging site upgrades (helping to provide redundancy and, in some cases, faster charging speeds), prioritize corridors for DC fast chargers and include carve-outs for state government electrification, something that has been called for in Gov. Cooper's executive orders.
Duke Energy's Phase II Pilot Proposal
After a partial approval of its first electric transportation pilot in North Carolina and a monthslong stakeholder collaborative process, Duke Energy filed for a second pilot in May of last year. The North Carolina Utilities Commission has not ruled on it yet, but a decision could come in 2022. The proposal seeks to expand public DC fast and Level 2 charging, deploy charging at multi-unit dwellings, provide support for school districts purchasing electric school buses and create a tariffed EV charging pilot for residential and business customers.
Federal Infrastructure Funding
Much has been made of the Biden administration's federal infrastructure bill that was signed into law in November 2021. Plenty of questions remain regarding how the funds will be distributed and accessed in North Carolina; however, it is clear that billions of dollars will be available for EV-related initiatives through grants and state programs. In addition to transit electrification opportunities, North Carolina could expect to receive about $109 million over five years to support the expansion of an EV charging network.
Manufacturing and Economic Development in North Carolina
With the announcement of the Toyota and Arrival battery plants, the economic development benefits of electric transportation are more apparent than ever. How might this impact consumer mindsets and the policy frameworks in the months and years to come? Will it help win people over who were hesitant about EV value or need?
Private Fleets Ready for Acceleration?
We've seen the use case for fleet electrification of smaller vehicle types (although maybe not as quickly as we had hoped), especially in public settings that align with sustainability and carbon reduction goals, and we've heard the news of Amazon and Rivian's partnership.
Already in 2022, Amazon has inked a deal with Stellantis, who will provide Ram ProMaster EVs starting in 2023 for Amazon's light commercial delivery efforts. And while much warranted attention has been given to the F-150 Lightning, let's not forget about another major product offering: the Ford E-Transit. Additionally, Arrival plans to begin manufacturing UPS fleet vehicles in Charlotte as early as this year.
All that to say, when will the private market provide enough vehicle styles (especially in medium-duty classes) to tip the scales toward electrification in the sector? We know that, thanks to lower EV life-cycle costs, these fleets will be making the switch, but will it happen all at once? And when?
The Year of the Magic (Electric) School Bus?
2021 saw a number of electric school bus-focused initiatives. Six buses were awarded through Phase 1 of the VW Mitigation Settlement, and Duke Energy's pilot program included funding components for electric school buses and charging infrastructure. North Carolina also hosts one of the most popular electric school bus manufacturers in the nation in Thomas Built Buses.
With all of that being said, no electric school buses actually hit the road in 2021. It looks like that will change in 2022, as VW Mitigation awardees have the paperwork needed to receive buses later this year. With the technology's demonstrated value for the power grid and for reducing harmful emissions exposure in children, we're excited to see this take shape.