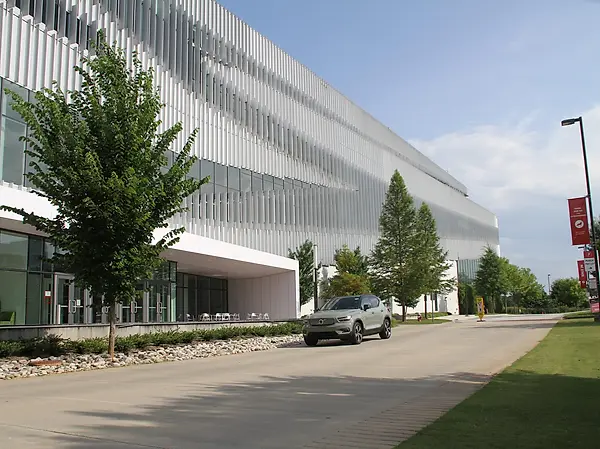 News Article
EV Adventure: Plugging In to the Piedmont
In the 1800s, the North Carolina Railroad efficiently carried passengers and freight throughout the Piedmont region, helping it become a hub of industry and technology. Today, another form of efficient transportation is taking hold: electric vehicles (EVs).
The region is quickly becoming a hot spot of EV design and development. EV startup Arrival chose Charlotte for one of its "microfactories" and as its North American headquarters. Volvo Group, which is creating electric solutions for several transportation sectors, has its North America Trucks headquarters in Greensboro. And Thomas Built Buses, maker of the Jouley electric school bus, calls nearby High Point its manufacturing home.
But beyond the business side, more than 75 percent of North Carolina's 30,000+ EVs are in the Piedmont. To help get all of these drivers where they need to be — whether that's from suburban areas to the state's biggest cities for a commute, or to explore more natural attractions — North Carolina's electric cooperatives are helping to build connections with charging infrastructure.
Fast charge connections
DC fast charging enables drivers to recharge quickly between stops, making it essential for long-distance driving and large fleets — and it's why North Carolina's EV drivers rely on it often. Whether you're traveling for work, heading home from college or escaping to the coast or mountains, you'll want to take note of the places you can charge up in minutes.
Pee Dee Electric and Surry-Yadkin EMC installed charging stations conveniently located off major highways running to and from the beach and out of state. With two plugs each, these stops will have you on your way in no time. Central EMC offers DC fast charging closer to the Triangle off of U.S. 1, while EnergyUnited added a spot in Mocksville, near the intersection of I-40 and U.S. 64, for EV owners venturing further west.
I spy a zebra, and a plug
The barking treefrog, the southern white rhinoceros, the red wolf. What do these animals have in common? They can all be seen while charging your EV. Asheboro's North Carolina Zoo remains a popular destination for families exploring the Piedmont, and it has you covered if you drive electric. Thanks to Randolph EMC, the North American and Solar Pointe parking lots each have two Level 2 ChargePoint stations, good for eight total plugs.
Hiking, climbing, camping, charging
If you're an outdoor enthusiast, you don't want to miss Pilot Mountain State Park. Served by Surry-Yadkin EMC, Pilot Mountain offers two dual-plug ChargePoint Level 2 stations near the visitor's center. The fall is a great time to take in the park's natural beauty, so spend an afternoon and let your EV soak up electrons. Raven Rock State Park in Lillington, has a Level 2 station as well.
Opportunities to learn
This time of year also provides great opportunities to learn more about life with an EV. Look for events from your local electric cooperatives and other groups coming up as part of National Drive Electric Week — for one, the NC Zoo is hosting an event with Randolph EMC. National Drive Electric Week is an annual celebration that takes place in September and October, and it gives you a chance to speak with fellow North Carolinians about driving electric. You may even be able to get behind the wheel of an EV yourself!
More EV adventures
As North Carolina's electric cooperatives work to electrify our state, they are bridging the gap for EV drivers to travel across regions effortlessly. Next time, we'll highlight stops in Western NC. Visit ncdriveelectric.com to learn more about EVs.
This article was originally published in Carolina Country magazine.