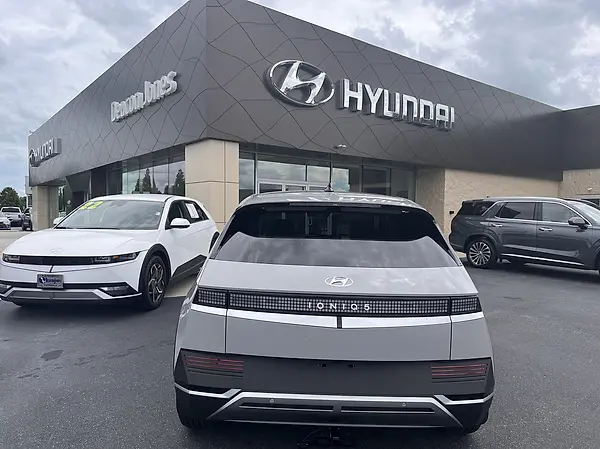 News Article
EV Owner Spotlight: Michael Matthews
Michael Matthews, a building science specialist with our parent company, Advanced Energy, recently purchased his first electric vehicle (EV). We spoke with him to hear about his experiences as a new EV owner.
Why did you decide to make the switch to an EV?
As a couple who both work in the clean energy industry, my wife and I decided without debate that an EV would be a logical replacement for our 8-year-old, gas-reliant car that still had a decent trade-in or private sale value.
For the first time in a while, our last vehicle wasn't leaving us stranded with, ironically, a dead battery for the simplest of reasons, i.e., stopping for as little as five minutes with the key resting in the ignition while not running. I purchased a backup battery-powered jump-starter that was used way too often, and the car not only burned oil but leaked it. Unacceptable. Before we handed it off, we managed to get both of those issues fixed.
There was plenty of research to aid in the decision. I spent 15 years choosing the smallest vehicle with the best gas mileage because I drive enough to consider its impact. I finally was able to shift that mindset.
How did you settle on the vehicle you ended up with? Did how you'll be using the car play a role?
As a family, we travel. Not always far, but we have trouble traveling light. We knew we needed something to accommodate at least our family of four and pets. We actually took into account the "head room" for the dogs in the back of the car. We have always aimed for a car that is flexible — one that can add storage and trailering as needed — rather than driving a bus day in, day out. The Hyundai Ioniq 5 was best suited for us and fit that model.
With vehicle inventories remaining an issue, what was the process like for getting your car?
We called around to at least five dealerships within an hour of the Triangle. We were told by most, in May, that it could be six months, but that it could also be immediate if the people in front of us on the "list" opted out. When we heard that, we decided that since the 2023 Ioniq 5 was taking orders, we would set up that way and see what happened first.
We placed our order and were told we may see it between October and December. At this point, we were in line for two trucks, on at least five waiting lists and had a preorder with a six-month wait. After two additional weeks of waiting, we got a call from a dealer about an available Ioniq 5, and they offered us a great trade-in for our old car. It was a win for us, so we got the model year 2022 of a higher trim than we expected, but they worked with us and it ended up being priced right after the trade.
What has been your favorite thing about the Ioniq 5, or about driving electric in general, so far?
Sadly, I haven't owned a car that I can sync my phone to. Petty, I know. I could get that with any type of new car, but you asked about my favorite thing. The car is a computer on wheels. I get into it and it insists that I choose a profile. It then starts in the same configuration as the last time that profile was selected. I'm not ignorant to the fact that this technology, or at least the idea of it, has been in play for decades. But it's never been in my driveway.
Have you had any challenges or negative experiences?
None to speak of.
Turning to charging, I know you opted for a Level 2 charger at home. Did you ever consider just using a regular wall outlet?
The car came with a 120-volt connection, which we plan on using in a pinch or at a friend's house if we are traveling and need a little juice. The 240-volt charger for our home was a no-brainer since the 120 will only charge a few miles per hour. With a 300-mile range, we wanted the flexibility of getting more distance in less time. The energy miser in me will probably use the 120 if I know we will not be going out for a few days.
What kind of charger did you end up selecting, and what factors went into your decision?
Our electric vehicle supply equipment (EVSE) is a 50-Amp smart charger. I chose it based on a few factors: price, reviews and my stock portfolio.
I heard you took advantage of Duke Energy's EV Charger Prep Credit program. Did that influence your decision to get a Level 2 charger?
Yes, I was going in blind as to how much the upgrade would cost, but it was expected to be less than the rebate cap, so we moved forward.
How was finding an electrician?
I was able to leverage a business relationship with a company we are working with on an energy monitoring study. Had I needed to call around, I'm sure it would have been a different story. In terms of the pricing, we are still working through the invoice and permitting process. Duke's requirement was not explicit before it was time to submit the paperwork, so we had to work on getting the documents to provide the information they are looking for.
Did you need to upgrade your electrical panel? How large is the dedicated circuit?
Fortunately, I did not need a panel upgrade. We have a 200-Amp panel to work with. The dedicated circuit is a 50-Amp, which is the highest I could go for the EVSE. We should be able to get pretty quick top-offs with that capability.