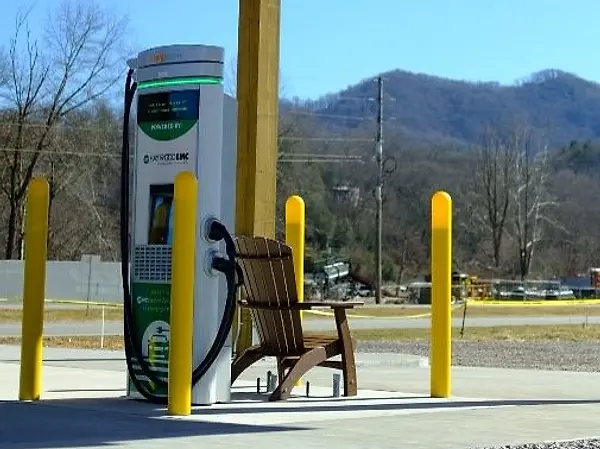 News Article
Gateway to the Smokies: Fast Charging at The Local Market
Earlier this year, we attended the ribbon-cutting ceremony for new DC fast chargers in Waynesville, North Carolina. These stations, which contain two CCS plugs and two CHAdeMO plugs, are the westernmost DC fast chargers in the state and fill a critical gap in North Carolina's charging infrastructure.
The installation of the stations was the result of a partnership between The Local Market, H.T. Hackney, Haywood Electric Membership Corporation (EMC), ChargePoint and the N.C. Department of Environmental Quality. We spoke with Russell Biven, digital marketing director of Hackney Brands, about the experience and the group's future plans.
Can you describe how your business supports electric vehicles (EVs) and why?
The Local Market, which is owned by H.T. Hackney, has a sincere desire to provide the best possible service to our customers. We saw the huge need EV owners had while traveling from Knoxville, Tennessee, to Asheville, North Carolina, and vice versa, along I-40. When the opportunity to partner with Haywood EMC, ChargePoint and the state of North Carolina came about, we jumped on it. The experience gave us an even better understanding of the needs of EV owners and the future of the industry. Talking with folks like you at Plug-in NC and enthusiasts who came to our ribbon-cutting gave us greater insight and feedback that we will use in future EV charging station decisions.
Can you provide insight into the process of installing the charging stations, from making the decision to hosting the ribbon-cutting? How did you select the location? How did Haywood EMC support you during this process?
Installing the stations was certainly a learning process for us, and we will use that experience as we continue to add EV charging stations to other locations. Again, we saw and still do see the need for EV charging stations throughout the country, so we were thrilled to play a role.
We partnered with Haywood EMC, one of North Carolina's electric cooperatives chosen to create a statewide network of EV charging stations. Part of the project was made possible by a grant awarded by the N.C. Department of Environmental Quality using funds from the Volkswagen Settlement.
We used ChargePoint DC fast chargers, and ChargePoint played a key role in guiding us through that process. Our other partners and contractors included:
Architect: George Armour Ewart Architect
TPM Services Group LLC (performed all excavation and construction)
State Electrical Subcontractor: Chatham Electric Service LLC (completed all EV scope)
Subcontractor: Comer Electric (did all electrical work, except installing EV chargers)
Haywood EMC, Rex LaRowe and Team (helped with all designs and engineering of the local power system and converting the current infrastructure to underground; they spent a lot of time working with us, and we can't thank them enough)
Local Contractor: The 828 Construction
We selected the location based off research we had done, plus additional information we received from ChargePoint regarding the need for EV charging in that corridor. Haywood EMC also suggested the Waynesville location. With our Waynesville store being right off I-40, it was a perfect match.
Haywood EMC was instrumental in the process as we sought guidance on implementing the plan. Rex and his team were (and continue to be) tremendous partners from start to finish, providing expertise every step of the way. They helped provide the underground infrastructure not only for the two current chargers but for four more that we can install in the future.
H.T. Hackney and The Local Market helped organize the ribbon-cutting ceremony with the help of the N.C. Department of Environmental Quality and Haywood EMC. We made sure EV enthusiasts knew about the event, and they showed up big for us. It was nice to see such excitement for this project. The interest Plug-in NC has shown has been very appreciative as well. From start to finish, this project has been covered by The Wall Street Journal, local papers and television stations throughout North Carolina. A television station in Tennessee also has plans to do a story on the chargers.
What benefits have you seen (or do you hope to see) from the chargers?
We are still gathering information daily on the usage of the chargers, but we have talked with customers from several different states who made it a point to visit our location.
We are currently above the average number of users per day that ChargePoint typically sees. As more people discover our charging stations, we believe it will only help local businesses and tourism in the Waynesville, Maggie Valley, area.
We also hope that EV customers will see the other ways we can serve them inside our store.
What is something that you did not expect to gain from supporting EVs? What has surprised you most?
We were overwhelmed by the authentic excitement the enthusiasts had for this project. Several members of our team spent hours talking with them to gain their perspectives and opinions. We will incorporate those groups in future endeavors. If we are going to be successful in providing quality service, we must learn from those we are trying to serve. On a side note, they are a fun, upbeat group of people.
Have you run into any challenges in your efforts? What is one thing that other businesses looking to add charging stations should consider?
As we continue to look at adding charging stations at other locations, we are considering how quickly the technology is changing. There's a fine line between being on the cutting edge and installing equipment that could be outdated in five years. We feel good about the two DC fast chargers from ChargePoint we installed in Waynesville.
I would suggest businesses, that are not headquartered in the location, lean heavily on the electric utility that they work with. They not only bring the expertise in the EV arena but also know the community and might provide insight you wouldn't otherwise have.
Do you have additional EV plans or goals moving forward?
We hope to add additional EV chargers to our Waynesville location and are looking at other store locations we have in North Carolina as well.