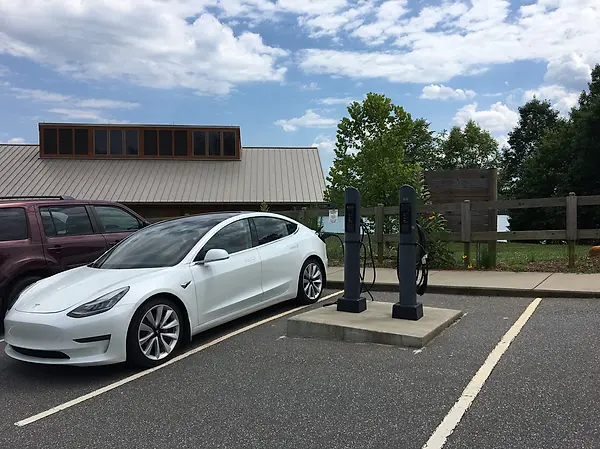 News Article
Member Spotlight: Lake James State Park
Lake James State Park, located about 50 miles from Asheville, offers a family-friendly trip for outdoor lovers in the Blue Ridge Mountains. Travelers from throughout the state and beyond can enjoy more than 150 miles of shoreline at the lake and a range of activities while charging up their electric vehicle (EV) for their next destination.
"I'm happy that we can provide this service. It's a great match for our agency to be on board with supporting the use of EVs," said Nora Coffey, superintendent at the park.
The charging stations — two Bosch EV200 Level 2 stations — were installed back in 2018 when the North Carolina Division of Parks and Recreation received a grant from Duke Energy. They can be found at the Paddy's Creek Area main parking lot, near the beach access, and are free for public use.
Park staff views the chargers as a benefit to the park and guests. "One of the benefits to having charging stations is that it allows folks to charge their electric vehicles while enjoying a variety of outdoor recreation activities, even if it's just admiring the view," Coffey said. "Also, we are allowing folks with EVs to visit our park without having to worry about finding a charging station nearby."
Since installing the charging stations, park staff has been surprised at just how many EVs are available and the growing variety that are out on the road.
For current charging station hosts and those looking to install in the future, park employees shared a lesson they have learned from their experience: find a qualified technician who can work on the equipment if it breaks down. In the past, the park has had issues diagnosing and repairing the charging stations when they weren't working properly. Lake James staff looks forward to an increase in resources for station maintenance as EVs expand across the state.
Moving ahead, the park will continue to develop its charging infrastructure. It plans to install additional stations at the new visitor center that is scheduled to open in the Paddy's Creek Area later this year. It's also exploring the possibility of adding a charger to each of the campgrounds.
For more information about Lake James State Park, visit its website, and make sure to stop by for incredible views this fall.