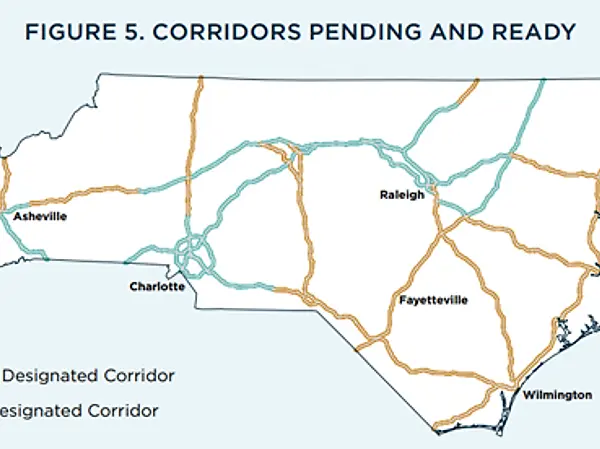 News Article
NC Department of Transportation Proposes 33 New DC Fast Charge Locations
On August 1, 2022, the North Carolina Department of Transportation (NCDOT) submitted the North Carolina Electric Vehicle Infrastructure Deployment Plan to the Joint Office of Energy and Transportation, a newly formed collaboration between the U.S. Department of Energy and the U.S. Department of Transportation. This plan will serve as the blueprint for North Carolina's execution of the approximately $109 million that will be heading to the Tar Heel state as part of the National Electric Vehicle Infrastructure (NEVI) program, which stemmed from the Bipartisan Infrastructure Law signed in 2021.
Through its infrastructure analysis and stakeholder engagement efforts over the last several months, NCDOT is proposing 33 new high-powered DC fast charge locations — all with at least 150 kilowatts (kW) per port — along North Carolina's Alternative Fuel Corridors. These stations will complement 10 existing DC fast charge stations that already meet NEVI program criteria (more on that below).
The proposed stations do not represent precise locations but rather target areas, or "segments," where ultra-fast charging infrastructure should be sited. NCDOT will work with station providers and electric utilities through a proposal process for each segment. These applicants will need to demonstrate the appropriate cost contribution (20%, with federal funding providing 80%) and secure site hosts that meet NEVI's requirements, specifically the condition that stations must be within one mile of an Alternative Fuel Corridor.
Plug-in NC's Takeaways:
Eastern North Carolina will get a huge fast charging boost: 16 of the proposed locations are east of Raleigh. This will be great for connecting drivers to the coast, strengthening the potential for EV adoption in the area, supporting hurricane evacuation for EV drivers and bolstering localized resiliency in a region highly prone to flooding and storms.
Very few of the state's current DC fast charge locations meet the NEVI program power requirements (four or more chargers capable of outputting 150 kW simultaneously), and those that do are all Electrify America stations. This doesn't mean that Electrify America is the only charging provider that can meet the criteria, just that it's the only one constructing stations with these specifications thus far. There are many reasons why this could be true, including considerations about hardware costs, charging deployment strategies for providers and utilities, and site-host-location power accessibility.
Well over 50% of the recommended locations are in disadvantaged communities, which demonstrates clear alignment with the Justice40 Initiative. The Justice40 Initiative is focused on delivering at least 40% of the overall benefits from federal investments in climate and clean energy to disadvantaged communities.
After the NEVI criteria for Alternative Fuel Corridors have been met, North Carolina will be able to use any remaining funds for community-based charging deployment and a community-based discretionary grant program. This means that charging solutions and strategies can be tailored to the local needs of North Carolina counties and communities.
And a Few Questions:
How much will integrated battery storage factor into these locations? Will there be competitive applications for the segments without battery storage? Site hosts and utilities (especially in more rural areas or where EV adoption is lower) may be hesitant with charging station deployment of this scale, so it might take creative battery storage solutions to ease concerns. Remember, there are many reasons why so few ultra-fast charging stations exist in the state right now.
Do the rural segments have enough access to three-phase power, which is typically required for this degree of DC fast charging? Or rather, can site hosts that have three-phase power be identified in these segments?
How will upcoming Volkswagen (VW) Settlement announcements from the North Carolina Department of Environmental Quality impact the proposed NEVI locations? It's unlikely that many of the DC fast charge stations awarded through Phase 2 of the VW Settlement will have the level of power output required by NEVI, but will there be too much DC fast charge redundancy between the Phase 2 announcements and the NEVI locations? Will there still be sites interested in hosting stations if there are others nearby?
How will Buy America standards affect project timelines and access to charging equipment and materials? The Federal Highway Administration is seeking feedback on this topic as it relates to the NEVI program. NCDOT shared that it is willing to adhere to Buy America requirements but is asking for flexibility based on supply chain disruptions and marketplace production for EV supply equipment.
We encourage folks to read the full North Carolina Electric Vehicle Infrastructure Deployment Plan to learn more about the environmental justice considerations, workforce development priorities and opportunities, public engagement approach and more. However, if you want a not-so-brief summary on NEVI and NCDOT's plan, here we go! (And see the graphic to the right for what we can expect next.)
How did we get here?
This funding is coming from the NEVI program, which was established as part of the Bipartisan Infrastructure Law signed in November 2021. It will provide nearly $5 billion over the next five years, with the goal of creating a network of ultra-fast charging stations across the country. The NEVI program has a few requirements:
Charging station deployment must be prioritized along Alternative Fuel Corridors and must be spaced at most 50 miles apart
Each state had to develop a deployment plan to be submitted to the Joint Office of Energy and Transportation by August 1, 2022
The Joint Office and the Federal Highway Administration must approve the plan
EV charging infrastructure must be "conveniently and safely located" within one mile of Alternative Fuels Corridors
Furthermore, equity and access requirements include the following:
States must prioritize stations to serve rural, underserved and disadvantaged communities, which include Tribal lands
States must target at least 40% investment towards disadvantaged communities (in accordance with the Justice40 Initiative)
States must hold stakeholder engagement with rural, Tribal, underserved and disadvantaged communities
For the charging infrastructure itself, stations must have at least 97% reliability and should be publicly accessible at all hours. They also must operate for at least five years and be future-proofed for later expansion. Finally, they must "meet current and anticipated market demands" by having power capabilities of at least 600 kW with at least four CCS ports that support 150-plus kW per port simultaneously.
Everything we've talked about so far has to do with the federal requirements for NEVI. Let's dive into what we learned from North Carolina's plan.
The plan was developed with stakeholder engagement sessions that leveraged working groups, which were initially formed as part of Gov. Cooper's call from Executive Order 246 for a Clean Transportation Plan
The NEVI program in North Carolina will be implemented in two phases

Phase 1: NEVI-compliant fast charging stations along Alternative Fuel Corridors
Phase 2: Community-based charging and infrastructure development, with a focus on underserved communities and increasing access for EV-related jobs
Based on the public and stakeholder feedback, NCDOT has listed the following goals for successful NEVI program implementation:
Build an easily accessible charging network
Increase overall network reliability
Ensure equitable location of EV chargers
Expand access to economic and workforce development opportunities
Implement EV infrastructure along emergency evacuation routes
North Carolina has over 3,800 miles of Alternative Fuel Corridors broken into "corridor ready" and "corridor pending" designations. ("Corridor pending" means a corridor does not yet have the number or spacing of alternative fueling locations needed to meet "corridor ready" status.) This network will be the foundation for the NEVI fast charging deployment across the state.
According to NCDOT's analysis, nearly 70% of the existing 167 public DC fast charge stations in North Carolina are within one mile of an Alternative Fuel Corridor. (This count excludes Tesla Superchargers due to their proprietary nature.) However, as mentioned above, only 10 of those achieve NEVI's power specifications, which means there are many locations around which NCDOT can plan for NEVI infrastructure placement. It also reduces the total investment needed to build out the entire network, which, theoretically, will allow for more funding to be allocated to community-based charging.
NCDOT will contract with third parties for installing NEVI-funded infrastructure along these segments. It has outlined a process that includes grant solicitation, a proposal procedure, funding justification for the 20% cost gap, and verification of access for drivers (forms of payment, safety measures, operating hours, etc.). NCDOT has also made clear that it will support a "robust, diversified, and skilled marketplace for public EV charging implementation and operations in North Carolina." To support this claim, it will focus on proactive outreach to minority- and women-owned businesses to share more information about the NEVI program.
Workforce development initiatives will be led by units of the NCDOT Human Resources/Workforce Development teams to support a larger network of North Carolina's skilled workforce and create new opportunities for training, business development and employment.
The plan also illustrates the interactions to be had with disadvantaged communities across the state and used guidance from the Justice40 Initiative to identify those communities in North Carolina. Over 70% of the state's population lives in a Justice40 community, and this plan prioritizes funding, infrastructure deployment, outreach, workforce development and air quality monitoring research in these areas.
Lastly, NCDOT will be establishing performance metrics and indicators to monitor and evaluate the efficacy of the NEVI program. These indicators will be developed through community and stakeholder input as well as through guidance from the Federal Highway Administration. The primary areas for evaluation will include regulatory compliance, community characteristics, economic impact and equity.
The NEVI program and the North Carolina Electric Vehicle Infrastructure Deployment Plan represent an exciting milestone for electric transportation in the state. Plug-in NC applauds NCDOT and its partners for their hard work and is looking forward to engaging more with the plan in the coming months. Stay tuned!