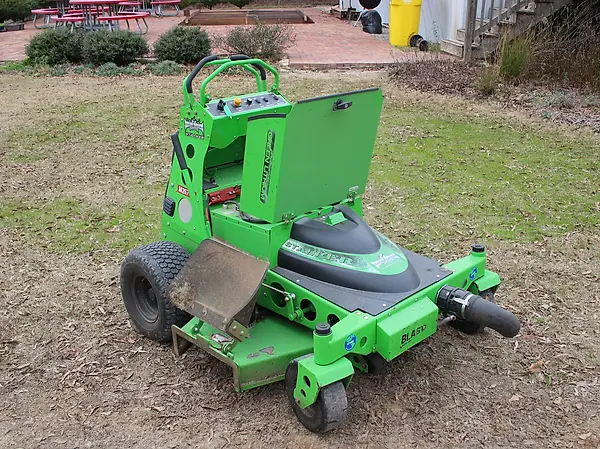 News Article
NC State's Grounds Services Team Is Cleanly and Quietly Maintaining Campus
In 2018, NC State University's Grounds Services team, which performs a variety of landscaping work around campus, decided to give electric equipment a try. It started by purchasing battery-powered string trimmers and has since added riding mowers, chainsaws, leaf blowers and more.
We reached out to Jeff Del Pinal, grounds program manager, to learn more about the group's efforts.
1) What motivated you to switch to battery-powered grounds equipment?
NC State is committed to sustainability, and we wanted to support this vision by exploring options for sustainable landscaping equipment. We conducted a study to see what tools would fit best with our team's needs, and we went from there.
2) What benefits have you seen?
Battery-powered equipment has fewer parts, which means fewer maintenance requirements. Between the maintenance and fuel savings, the equipment is less expensive to operate.
Importantly, the technology performs similarly to our gasoline models in terms of power, speed, etc., but it's significantly quieter, allowing us to start work earlier in the day (as we're less likely to disrupt sleeping students in dorms). And the decreased emissions are not only better for the environment but also for our staff and community members, who no longer need to breathe fumes.
3) What percent of your fleet is battery-powered?
About 20% of our fleet is battery-powered, but we hope to grow that number.
4) What factors should other universities and institutions consider before going electric?
More daily planning is required because current battery-powered equipment typically cannot operate for as long as gasoline models. But our team has been very supportive of the technology and enjoys taking it out. This buy-in from employees has been essential.
5) What do you think is the next step for battery-powered lawn equipment?
While battery-powered mowers continue to improve, we're lacking a model that's big and powerful enough to perform work on athletic fields, so that would be great to see. And for us, the tool that performs least like its gasoline counterpart is the backpack leaf blower, but these should get up to speed as battery technology progresses.