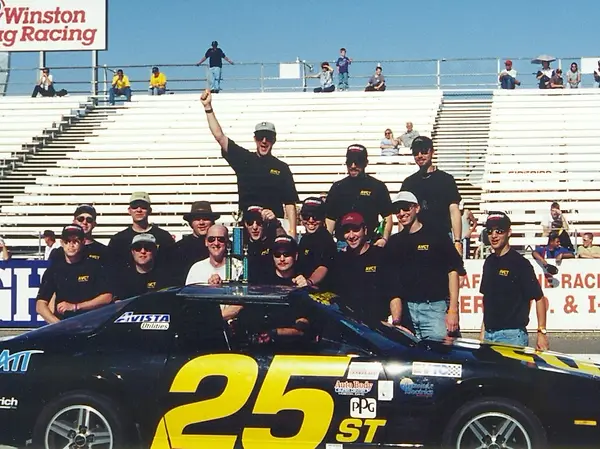 News Article
Plug-in NC Ambassador Spotlight: Dave Erb
Plug-in NC is excited to talk with ambassador and electric vehicle (EV) enthusiast Dave Erb for this quarter's Ambassador Spotlight.
Dave is an automotive engineer who spent the majority of his career in academia, and he recently retired from UNC Asheville as a mechatronic engineering professor. Starting out as a consultant and a test and development engineer in the heavy truck and transit bus industry, Dave has long been focused on energy and emissions. He has extensive knowledge of the EV and energy sectors and has developed vehicles using gasoline, diesel, biodiesel, natural gas, alcohol, electric and hybrid electric powertrains. Based in Asheville, Dave found Plug-in NC through his involvement with EV Challenge, Advanced Energy, Plug In America and the Land of Sky Clean Vehicles Coalition.
Let's get to know more about Dave's EV journey!
How long have you been driving electric?
I started electric and hybrid electric vehicle (HEV) development in the transit bus industry in 1986. From there, I began advising students who were developing EVs and HEVs for contests and races in the early 1990s (HEV Challenge, FutureCar Challenge, EVTC Formula Lightning, SunRayce, Formula SAE Electric). Later that decade, I started building and driving electric race cars myself (EVTC Street Stock and Formula E classes, NEDRA drag racing, SCCA auto crossing).
But all of that fell into the category of "playing with other people's toys." My wife and I didn't actually buy an EV of our own until 2016.
Why did you decide to focus on EVs throughout your career and personal life?
Any sustainable transportation system has to center around electrified powertrains, so I've made that my specialty since the mid-1990s. The most notable societal drivers for going electric are noxious emissions (criteria pollutants); energy supply, security and cost; and greenhouse gas emissions. There are also numerous purely automotive reasons to electrify, including NVH (noise, vibration and harshness), driver feel, packaging flexibility and acceleration performance.
By most measures, EVs are just better vehicles, so the decision kind of makes itself.
How did you decide which EVs to buy? What stood out to you?
Our first EV was a 2015 Nissan LEAF, bought used in 2016. I would have preferred a Chevy Spark EV; however, North Carolina Chevy dealers couldn't bill GM for Spark EV warranty work back then, and the risk of having to truck the car to Maryland for warranty work or eat the expense was unappealing.
In the spring of 2019, with my having retired a year earlier and feeling that life is too short to delay things you really want, we decided to get rid of our gas car and buy a Tesla Model 3. And, with all Bolt EV-certified Chevy dealers now allowed to do warranty work on the Spark EV, we sold the LEAF and imported a Spark EV from California.
All three cars have served their intended purpose about as well as I could hope. The LEAF was inexpensive and comfortable. We drove it about 6,000 miles a year, 75 percent of our driving in our pre-retirement mode. The Spark EV seamlessly replaced the LEAF, still doing about 6,000 miles a year and at just the right size for Asheville's narrow streets and tight parking. The Tesla is the ideal road trip car: comfortable, responsive, quiet and inexpensive to operate, with the convenience of Tesla's Supercharger network. Road trip capability is important now that I'm retired, since we make about 10,000 miles of longer drives per year instead of the 2,000 miles we did before.
What road trips have you taken in your Tesla?
In 2019, we drove to Florida in April and to Minnesota and Michigan's Upper Peninsula in August. On both trips, the car's navigation system made finding chargers really easy. We bypassed as many Superchargers as we used and got about a third of our miles free from Level 2 chargers at hotels and restaurants. The Upper Peninsula required a bit of advance planning, since there are no Superchargers there and less-than-ideal locations for Level 2 chargers. For that part of the trip, we used PlugShare to find hotels with Level 2 chargers, which worked out well.
How do you typically charge when you're not traveling?
Aside from road trips, we mostly charge at home. We use a standard 120-volt outlet for the Spark EV and usually plug the Tesla into the same 240-volt outlet as our clothes dryer. Over a year, our 6-kilowatt, grid-tied photovoltaic (PV) system produces significantly more electricity than our all-electric house uses.
I also charge at Southern Alliance for Clean Energy (SACE) in downtown Asheville, where I volunteer one day a week. SACE has significant grid-tied PV capacity at its Asheville office and welcomes all members to charge on sunshine there.
If none of the charging spots at the grocery store are occupied, I'll use one to remind people that they're not just empty parking spaces. But it's also important for public chargers to be available when we arrive at them, so I'm less likely to charge there if it means taking the last spot.
Did charging influence your decision to buy an EV?
Charging influenced my decision only in the sense that the Supercharger network would have attracted me toward Tesla even if I hadn't already been smitten with the Model 3. CHAdeMO and CCS chargers are more broadly available than most people realize, but the integrated nature of the Supercharger network is typically just more convenient for the time being.
How do you advocate for EVs?
With every fiber of my being!
I started doing EV advocacy in 1991, when I was trying to raise support for a senior project for my students. One project led to another, and I wound up creating and teaching a three-day professional development short course on "Design of Hybrid Electric Vehicles" for the Society of Automotive Engineers (SAE) from 1995 to 2004. Though most of the roughly 1,400 practicing engineers I trained were truly interested in the subject, it was also an era when any suggestion that EVs were commercially viable was considered controversial, blasphemous and offensively political in automotive industry circles.
I've raced EVs on road courses, drag strips, oval tracks and autocrosses, mainly for the sheer, maniacal fun of it, but also to help refute the criticism that EVs are just glorified golf carts. I think it's safe to say that Tesla has put that notion to rest, finally. But we racers paved the way.
I'm active in the Blue Ridge Electric Vehicle Club (BREVC), helping to organize Asheville's successful National Drive Electric Week (NDEW) and Drive Electric Earth Day (DEED) events. At our first NDEW, in 2014, my BREVC friends set me up at a table to answer technical questions, calling me "Professor Plug-In." They were teasing, but I liked the nickname so much that I put it on my business card when I retired. I give lots of public presentations and guest lectures about EVs to civic organizations, environmental groups, professional societies, college and high school classes, electric co-ops and others. I also speak extensively about the electric grid and renewable energy.
I was one of the first contributors to join David Hrivnak's project to publish "Driving to Net 0: Stories of Hope for a Carbon-Free Future," a collection of 15 first-person accounts of families who've combined EVs with solar houses and other sustainability strategies. I wrote Chapter 1, titled "An Unapologetic Car Junkie."
I frequently write letters to editors and op-ed pieces for a variety of publications and was recently a guest on a Mother Earth News podcast.
So, "Professor Plug-In," how much do you estimate you're saving on gas?
Nowadays, my wife and I drive about 16,000 miles per year. Our final two gas cars got about 40 mpg, which would represent an annual gasoline consumption of 400 gallons and equate to roughly $1,000.
The Spark EV averages 200 watt-hours per mile (Wh/mi) on 6,000 annual miles, using 1,200 kilowatt-hours (kWh; about $130 at residential electric rates in Asheville). The Tesla averages 235 Wh/mi on 10,000 annual miles, or 2,350 kWh (about $250). Using these numbers, we save about $620 per year.
It's important to point out that energy isn't the only expense that drops with EVs. They also require no oil changes, tuneups or timing belts. For many of us, the time gained from reduced maintenance is every bit as valuable as the monetary savings.
What are the most important things people should know about driving electric?
There are three things we desperately need more people to know about driving electric:
1) You can plug an EV into any standard electric socket using the opportunity charger that comes with the car. There's no need for any special equipment.
2) EVs are not more expensive than internal combustion vehicles (ICVs), no matter how many articles say otherwise. All new cars, EVs and ICVs alike, are expensive. But used EVs cost far less than comparable used ICVs, and my new Tesla cost less than a comparable new BMW, even without the tax credit. Plus, battery prices are still coming down, meaning there's room for even greater savings in the future.
3) Driving on sunshine, using EVs and grid-tied PV, is not the future; it's the present. For several years in North Carolina, EVs and PVs have both been cheaper than the alternatives.
With all of your experience and knowledge of EVs, has anything ever surprised you about driving electric?
My biggest surprise came in 1993, when the HEV Challenge organizers at the U.S. Department of Energy (DOE) sent me the raw data they had gathered from my students' car. The electric efficiency was so much higher than the gasoline efficiency that I called my DOE contacts, trying to track down the mistake. They eventually convinced me that their data were accurate, and my students used that knowledge to win the 1994 contest!
Interested in becoming a Plug-in NC ambassador? Click here to sign up.