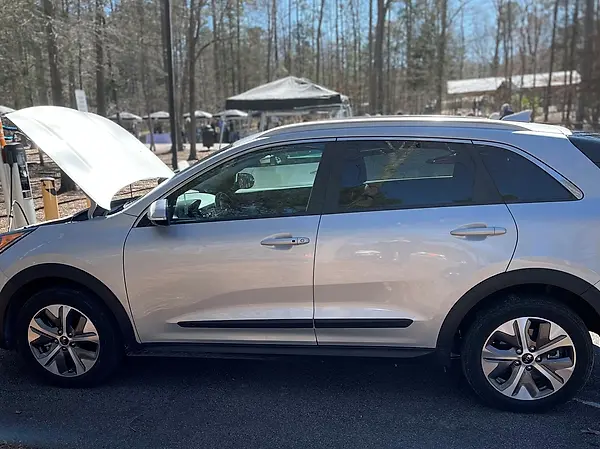 News Article
Plug-in NC Ambassador Spotlight: Evan Poteate
Evan Poteate is a student at North Carolina State University, studying electrical engineering. He has volunteered with Plug-in NC at many events across The Triangle to share his expertise and knowledge of electric vehicles (EVs). Apart from driving EVs, he enjoys music, the outdoors, comedies and global history.
How long have you been driving electric, and why did you decide to make the switch?
I've been driving electric since March of 2019, when I bought a 2016 Volkswagen e-Golf. I decided on it after driving a friend's Tesla Model S and then test-driving a Nissan Leaf and a BMW i3.
How did you decide which EV(s) to buy? What stood out to you?
I bought the e-Golf because the Golf is such a common car with a long history, and the electric model was a very affordable option. I replaced the e-Golf in June of 2021 with a 2019 Kia Niro EV because I needed extra range and more space to handle driving between home and college.
What's your favorite thing about driving electric?
My favorite thing by far is not having fuel costs. I can make my daily commute with no costs to charge at school, and on the rare occasion I must pay for charging, it's far less than fuel ever was.
Have you taken any road trips in your EV?
I took my first long trip in my Kia Niro EV to Washington, D.C., in the summer of 2021. I recharged in Hillsborough, in Richmond and on George Washington University's campus.
Where do you charge?
When I'm at my family's home, I use a charger connected to a 50-amp plug in our garage. When I'm at college, I use stations on campus and a few other locations nearby.
If you have the information available, how much do you estimate you're saving on gas?
My first car I fueled was a 2004 Honda Pilot. Compared to that, I'm saving around $120 per month on fuel.
Are there any challenges you've faced driving electric?
The e-Golf was completely electric but was not equipped with a DC fast charging port. This, paired with a 3.3-kilowatt onboard charger, meant it had a minimum recharge time of five hours. Finding myself stranded without any backup or fast charging option was one of the reasons I bought a different EV.
Do you have your eye on your next EV yet?
I'm keeping an eye on the Kia EV6 for my next car, but my current car has quite a while to go.
Interested in becoming a Plug-in NC ambassador? Click here to sign up.