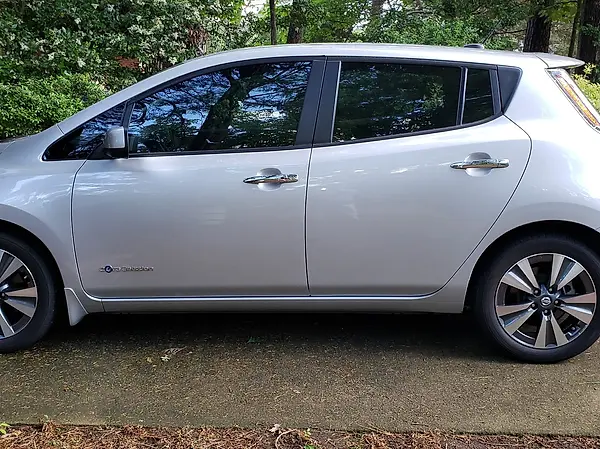 News Article
Plug-in NC Ambassador Spotlight: Helen DiPietro
To kick off the summer, we are highlighting another one of our Plug-in NC ambassadors. Let's get to know more about Helen DiPietro.
Hi, I'm Helen! For the past five years, I have been an office manager and jack of all trades, master of none, in the Engineering Communications unit at North Carolina State University. I am also the College of Engineering Staff Senator, serving as the Vice Chair of the Staff Senate. This is my second career. My first career was in the construction industry, where I spent 30 years. Holding a Bachelor of Architecture degree, I went into the regulatory field and served on several committees dealing with building construction and fire safety.
I became an electric car owner in February 2017, so I have been driving electric for a little over two years. While at NC State, I came across Plug-in NC through social media, and one of my fellow staff senators who works with the NC Clean Energy Technology Center is an advocate for electric vehicles.
In January 2017, I was driving a 12-year-old Honda Accord and putting about $75 of gas into it each month. I was interested in putting down a deposit on the Tesla Model 3, which was not yet in production, but my fellow senator informed me that Duke Energy was offering a rebate of $10,000 toward the purchase of a Nissan LEAF. My interest was sparked.
So, one weekend, I visited the Tesla store in Raleigh and learned that I would have to wait until at least the middle of 2018 for a Model 3, as they had hundreds of thousands of orders. Knowing that the federal tax credit of $7,500 would decrease after manufacturers reached 200,000 sales, I figured that it would not hurt to visit the Nissan showroom that was just down the street.
I had seen and test-driven a Nissan LEAF several years earlier when I worked at the North Carolina Department of Insurance, Office of State Fire Marshal. At that time, it had a range of only about 70 miles. The 2016 model went 107 miles, and after test-driving an SL version (solar panel, leather interior, dual charge ports), I sat down with the salesman and settled on the car for roughly half price (thanks to the $10,000 Duke Energy rebate, $7,500 federal tax credit and a $2,500 dealer discount).
I was initially impressed with the vehicle's quick response (still one of my favorite aspects), brake-regeneration feature, comfort, quietness and reduced maintenance. Since then, I have appreciated the remote climate conditioning – turning air conditioning on in the summer to cool the car before driving and turning the heat on in the winter to warm up the car.
I charge my car three times a week overnight from my 120-volt outlet in the garage, and I have both ChargePoint and EVgo accounts for when I take longer drives throughout the Triangle and need to charge on the go.
I have spoken at car shows, church groups and events sponsored by Plug-in-NC to advocate for electric vehicles. I have not yet taken a long road trip due to time constraints and a lack of range on my particular model, but I have my eye on the 2019 LEAF PLUS and its 226 miles per charge.
Interested in becoming a Plug-in NC ambassador? Click here to sign up.