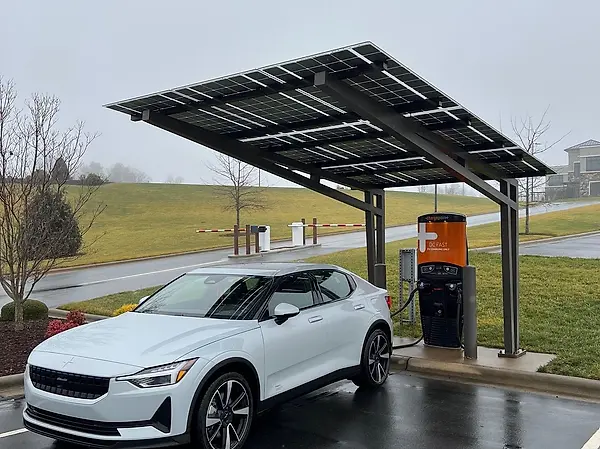 News Article
Plug-in NC Ambassador Spotlight: Rob Howard
Rob Howard became a Plug-in NC ambassador in 2019 and is a long-time advocate for the adoption of electric vehicles (EVs) in North Carolina. He is a licensed general contractor and a building science lecturer at Appalachian State University. One of his current projects is located in his hometown of Granite Falls, North Carolina, where he is developing a net-zero energy pocket neighborhood. Duke Street Cottages will include 11 clean energy homes, all EV-ready.
Let's get to know Rob!
How long have you been driving electric, and why did you decide to make the switch?
I bought my first EV in 2015, a used 2013 Nissan Leaf, because I was commuting from Granite Falls to Boone to teach at App State and had the opportunity to charge on campus. I got a great deal on it, and it had just enough range for my commute.
In November 2019, I bought a new 2019 Nissan Leaf Plus with 215 miles of range. The additional battery capacity definitely reduced my range anxiety, especially driving up the mountain with the heat on. I was also able to take advantage of the $7,500 tax credit.
In December 2021, I bought a Polestar 2 with dual motor all-wheel drive. So far, I have been very impressed with the performance, especially in the snow this winter in Boone.
Have you taken any road trips in your EV?
Yes, I bought the 2013 Leaf at a dealership in Alabama and drove it back to North Carolina. I thought I had it all mapped out, but I learned some hard lessons on that two-day road trip. It is a long and crazy story…for another day!
How and where do you charge?
I have a Level 2 charging station in my garage, but I also have access to Level 2 charging on campus at App State. In addition to the charging stations at home and on campus, I have benefited from the DC fast charging stations at Blue Ridge Energy. Shout out to their team for their leadership and advocacy on EV charging infrastructure!
How much do you estimate you're saving on gas?
To be honest, I have not done the math, but I would estimate $300-400 per month due to my commute.
Are there any challenges you've faced driving electric?
Lack of range for road trips is the only real challenge I have faced. Though it is growing, the charging infrastructure is still not robust and reliable enough in many parts of the state.
What's your favorite thing about driving electric?
It's a sustainable transportation method that is fun to drive, quiet, low maintenance and does not require trips to the gas station.
Thank you, Rob, for sharing your story! Plug-in NC ambassadors like Rob are promoting EVs across the state. Look out for more ambassador spotlights in the months ahead.
Interested in becoming a Plug-in NC ambassador? Click here to sign up.