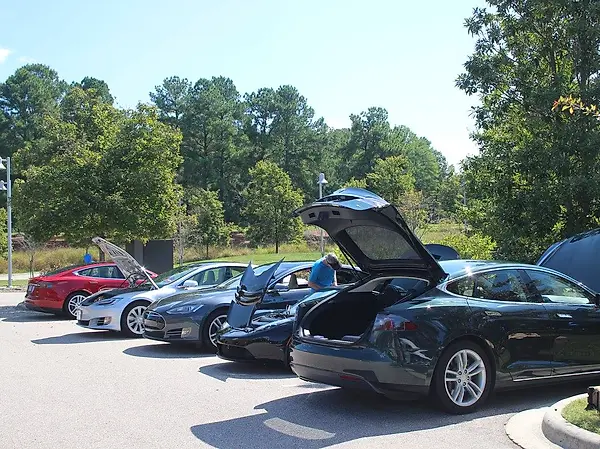 News Article
Plug-in NC Celebrates National Drive Electric Week 2017
Plug-in NC was excited to host the Raleigh National Drive Electric Week event for the 5th year in a row. This year's event was held at the Research Triangle Park Headquarters on September 16, a beautiful sunny day. It included an EV showcase, test drives from dealerships, educational displays and presentations, food trucks and kids' activities, including a raffle for three kid ride-on BMW i8 cars. The event was fun for the whole family, and we had a great variety of nearly 50 EVs, including some rarer ones!
As part of the event, we surveyed EV drivers about their driving and charging habits, as well as their thoughts about the benefits of driving electric. What follows are figures that capture some of their responses.
Thirty percent of drivers had purchased their vehicle used.
Ninety-five percent of drivers primarily charge at home, and 75 percent have a Level 2 charging station setup.
Environmental benefits were considered the most important benefit of EVs, but drivers reported a range of advantages.
Established in 2011, National Drive Electric Week is an annual celebration to promote EVs through a designated week of events that educate policymakers, the media and the non-EV-driving public about driving electric. These events can include electric tailgate parties, parades, EV showcases, ride-and-drives, award ceremonies and ribbon-cuttings. This year's celebration was the first to feature an event in all 50 states, for a total of 276! We can't wait to be back next year!
Additional photos from Raleigh's National Drive Electric Week Event 2017 can be seen here.