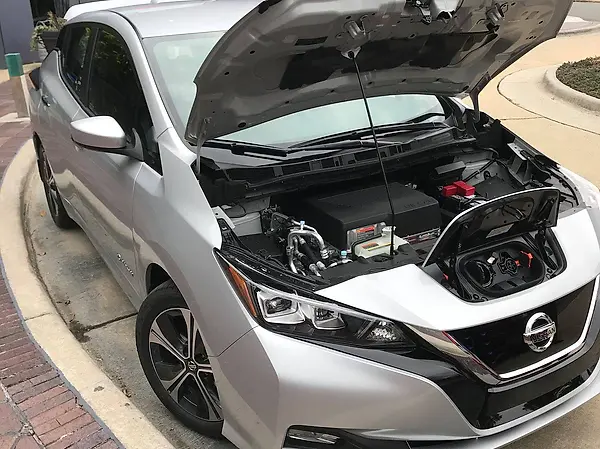 News Article
Plug-in NC, Duke Energy and Nissan Host Electric Vehicle Workshop for Fleet Professionals
With Valentine's Day in the air, Plug-in NC partnered with Duke Energy and Nissan North America to host the Love Your LEAF Lunch & Learn for fleet managers and professionals looking to make the switch to driving electric.
The event kicked off with introductions from Lisa Poger, electric transportation specialist at Advanced Energy, and Lang Reynolds, manager of electric transportation at Duke Energy. The next hour featured presentations from individuals helping to drive the shift to electric transportation in fleets.
Al Curtis, fleet management director for Cobb County, GA, discussed his county's experience making the switch to electric vehicles. For nearly two decades, Cobb County has been promoting alternative fuel solutions, and the rise of electric vehicles provided an excellent opportunity for new involvement. Specifically, Cobb County was looking to build a greener, cleaner and safer fleet while lowering operational and maintenance costs. Electric vehicles met these goals, and Cobb County government has installed a DC fast charger and close to 50 public Level 2 charging stations across the county. It also has a fleet of 29 all-electric Nissan LEAFs. These efforts have saved hundreds of thousands of dollars in fuel and operating costs, displaced over 50,000 gallons of gasoline, and reduced more than 175 tons of CO2 emissions.
Cornelius Willingham, manager of electric vehicle fleet business development at Nissan North America, spoke next. He first focused on the benefits of electric vehicles that make the technology a good fit for fleet use, such as environmental improvements and cost-savings. Cornelius then highlighted the broad market trends that are playing a role in the transition to electric vehicles, including announcements from automakers, increasing model availability and falling battery prices. He ended by discussing the newest electric offering from Nissan: the 2018 LEAF. This redesigned version comes with advanced technology, increased range (approximately 150 miles) and a fresh look.
The event wrapped up with an opportunity to test drive the 2018 LEAF. Attendees got behind the wheel and experienced the next generation of electric transportation. Overall, the Love Your LEAF Lunch & Learn was a big hit among all involved, and it provided an excellent opportunity for learning, networking and, of course, driving!
Event Resources: