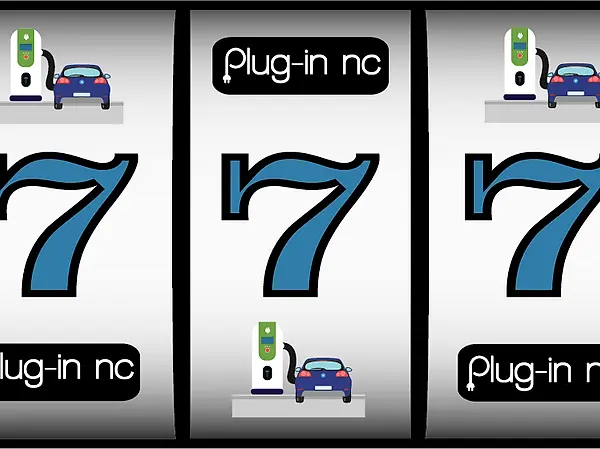 News Article
Plug-in NC Hosts 7th Annual Summit to Celebrate Accomplishments, Look to Future
On December 7, 2017, Plug-in NC hosted its 7th annual summit. The annual summit is a time of celebration, learning and progression, and 2017's version was a huge success. Individuals and organizations from across the state came together to discuss the landscape of electric vehicles (EVs) in our region and what we can do to improve it. Plug-in NC is already beginning to take these ideas to help plan for the year ahead.
The summit kicked off with a fun round of bingo featuring EV-related items, such as "National Drive Electric Week," "zero emissions" and "range anxiety." Kelley O'Brien of KTO Strategy & Communications then led the rest of the day's activities, starting with introductions. Attendees went around the room and shared the first thought that comes to mind when they hear the words "electric vehicle." Terms like "instant torque," "fun," "sustainability," future of transportation" and more were offered, highlighting the many benefits of driving electric.
The next segment of the summit had attendees work at their tables to brainstorm both misconceptions surrounding EVs and opportunities to address them. These ideas were then shared and discussed with the larger group. Examples of misconceptions included that all EVs have range limitations and that they are too expensive, while opportunities included sharing EV success stories and increasing marketing around the cars.
Back with their tables and with the prior activity in mind, attendees discussed where Plug-in NC could devote its efforts to strengthen outreach and education. After Kelley documented everyone's views, participants used a dot sticker exercise to indicate their top four topics, or the ones they thought Plug-in NC should focus on. The four most popular topics were:
Local decision-maker education (planners, permitting, policy, etc.)
State regulator/legislator education
General public education and awareness
Electric vehicle test drives for influencers/local celebrities
These topics were displayed throughout the room and participants 1) went to the one they felt most connected to, 2) noted how best to approach it (i.e., who should receive the information and how), and 3) included their names so they could be contacted for future help in that area. A goal for 2018 is to create affinity groups among the individuals signed up for each area. These groups would meet periodically throughout the year to discuss ideas and take steps to address their topic.
The day ended with a presentation of awards to highlight the dedication of Plug-in NC's ambassadors and members. Chris Browder received Plug-in NC's first ever ambassador award for his contributions in 2017: He spoke at multiple events, wrote blog posts and assisted with planning the National Drive Electric Week day. Chris also supports driving electric by having his own personal fleet of three EVs. His passion for electric transportation is a huge asset to Plug-in NC, and it has been wonderful having him at events and hearing him talk with others about driving electric.
Plug-in NC also honored one of its steering committee members, Jason Wager. Through the Centralina Clean Fuels Coalition, Jason works with vehicle fleets, fuel providers, community leaders and other stakeholders to reduce petroleum use in transportation. He has been an outstanding leader in Plug-in NC since its start in 2011 and has consistently volunteered his time, knowledge and passion for clean fuels and electric transportation.
Finally, Plug-in NC recognized the following member organizations for their outstanding efforts to support driving electric in North Carolina.
Randolph Electric Membership Corporation: Randolph EMC recently started a pilot program, REVUP, to help determine how EVs impact the grid. To support participation, Randolph EMC offered the first 25 members of the program a $500 rebate toward the purchase of a Level 2 charging station, which will be used to monitor and understand the effects of EVs. Randolph EMC also has a time-of-use rate, known as Plug N2 Savings, that encourages members to charge their EVs during off-peak hours through reduced kilowatt-hour rates.
Earthshine Nature Programs: Earthshine Nature Programs teaches science-focused wildlife and nature conservation, awareness, renewable energy and indigenous music lessons through exciting hands-on outreach education and field study programs. Working with the Black Bear Solar Institute, Pineshore Energy and ClipperCreek, Earthshine Nature Programs has done outstanding work to support EVs in North Carolina and make it easier for North Carolinians to drive electric.
Triangle J Council of Governments: The Triangle J Council of Governments runs the Triangle Clean Cities Coalition, which was founded to improve air quality and reduce dependence on petroleum by promoting alternative transportation fuels. In 2017, the Triangle J Council of Governments began working with the City of Raleigh on behalf of Triangle Clean Cities to coordinate EV infrastructure efforts through Volkswagen's Electrify America. Many organizations were vying to get a seat at the table, and it is exciting that they are filling that role.
Orange County: In 2017, Orange County participated in Duke Energy's EV Charging Infrastructure Project to add two new Level 2 charging stations. This program is helping to increase public charging infrastructure in North Carolina by 30 percent. Overall, Orange County owns and operates 16 Level 2 stations at four locations, as well as two DC Fast Charge stations on county property in Hillsborough and Chapel Hill.
Participation at the 2017 Plug-in NC annual summit was lively and engaging. According to a post-event survey, attendees enjoyed the discussion and being able to interact with a range of stakeholders to learn about what is occurring across North Carolina. Many plan to use the ideas to increase outreach and education at their own organizations. Plug-in NC wants to thank everyone who participated in the summit, as well as people across the state who are helping North Carolina drive electric!
---
Plug-in NC is a statewide program that promotes EVs throughout North Carolina. Since 2011, it has worked to spread awareness and education about EVs, reduce barriers to their adoption and conduct research to help integrate them into our local communities. Individuals and larger groups can join Plug-in NC to show their support for driving electric and connect with others with a similar mission. Plug-in NC members are businesses, organizations, schools and communities that have demonstrated a commitment to EVs by installing charging stations, adding electric fleet vehicles or educating the community about electric transportation. Plug-in NC ambassadors are individuals who are passionate about EVs and support Plug-in NC by volunteering at events, giving presentations, writing blog posts and more. Visit www.pluginnc.com for more information or connect with us on Twitter, Facebook and Instagram!