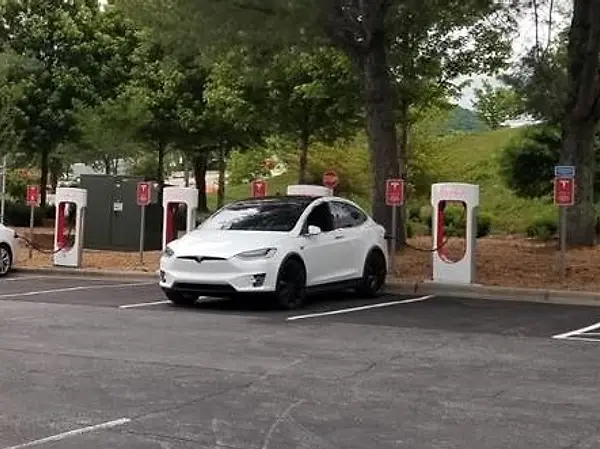 News Article
Plug-in NC Member Spotlight: Asheville Outlets
Asheville Outlets is a Plug-in NC member that aims to provide shoppers with the best experience possible in Western North Carolina. In 2015, the outlets joined the electric vehicle (EV) community by adding charging stations to its comprehensive list of guest amenities and services.
"Asheville Outlets is located off Interstate 26, which provides a convenient place for electric vehicle owners to stop in and charge. Drivers can then take advantage of some of the best shopping in our area while they wait," said Miranda Bowman, General Manager of Asheville Outlets.
Prior to Asheville Outlets' installation of chargers, leaders in the Asheville area had been working for years to prepare the city for the rollout of EVs. When the shopping center was approached to become part of the growing network of charging sites in the metropolitan area, it was an easy "yes." The center started by installing Level 2 charging stations and later added Tesla Superchargers — a first in Western North Carolina — which opened the region up to thousands of Tesla drivers. The Asheville Outlets charging location is one of the busiest on the East Coast, seeing nearly 32,000 drivers since its installation. Tesla recently increased the number of Superchargers at the center from eight to twelve.
The Asheville Outlets' charging stations have helped promote EV awareness, assist drivers and increase traffic to local businesses. The center provides the perfect charging location where car owners can plug in and shop, meet friends, have a quick bite to eat and enjoy Asheville Outlets' open-air experience.
Asheville Outlets is committed to supporting EVs and has a partnership with the Blue Ridge EV Club and Land of Sky Clean Vehicles Coalition, both Plug-in NC members, to promote them. Now every September, they host a free electric car show in honor of National Drive Electric Week. During the event, local owners come out to demystify EVs and offer rides as they discuss costs, range, charging options and more. Additionally, local dealerships are present with the latest lineup of EVs. The event has gained traction since its launch and attracts dozens of vehicles as guests enjoy live music, local food and of course, shopping.
Due to the COVID-19 pandemic, last year's EV celebration was canceled, but Asheville Outlets is hopeful that it will resume in fall 2021. As government restrictions ease, the outlets will continue hosting events with other Plug-in NC members and providing resources for people who drive electric.
Asheville Outlets is located at the intersection of I-40 and I-26 at Brevard Road and offers more than 70 outlet stores and dining options. Follow the shopping center on Facebook, Twitter and Instagram for the latest updates on events.