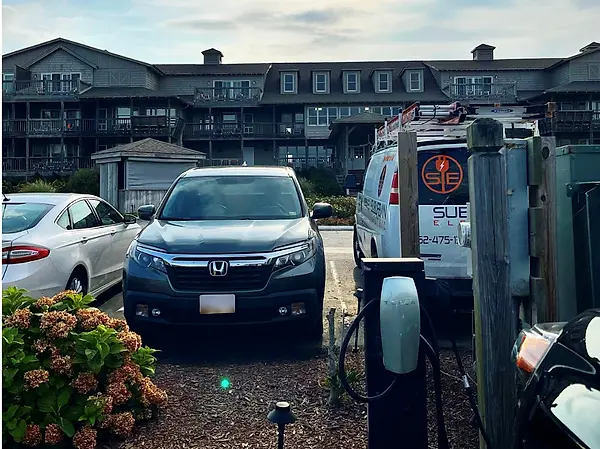 News Article
Plug-in NC Member Spotlight: Sanderling Resort
Imagine planning your next vacation. You find a luxurious resort that offers a combination of adventurous and rejuvenating experiences. You book your trip and begin to pack when suddenly you realize that you forgot one minor detail — you plan to drive your electric car but didn't look up places to charge. With Sanderling Resort, you won't have to worry.
Sanderling Resort joined Plug-in NC as a member in 2020. Located on the Outer Banks, the beachfront travel destination offers guests the opportunity to charge their vehicle while relaxing by the water, eating at one of three restaurants, receiving a massage at the spa or enjoying the resort's many other activities.
As electric transportation expanded across North Carolina, resort staff identified a need to accommodate visitors by providing a place to plug in. As a result, they installed two charging stations in 2018 as a new amenity for registered guests. There is one Tesla Level 2 wall connector in the center of the parking lot and another by the event building. The front desk can also provide adapters for other electric cars on the property by request. The Tesla charging stations are set to the highest setting of 60 amps and can fully recharge vehicles in six to eight hours.
Since adding the charging stations, the Sanderling Resort has seen increased customer satisfaction and a rise in demand for charging. During the gas shortage earlier this year from the Colonial Pipeline cyberattack, staff and guests were surprised at how impactful it was to have charging stations on-site and noted the benefits of driving electric. Moving forward, the resort plans to add more charging stations as interest continues to grow.
When asked what advice they would give to other businesses that host — or are looking to host — charging stations, leaders at the resort emphasized the importance of selecting the right location. "Location is the only challenge we have run into, simply because we occasionally have guests park in reserved charging station spots without an electric vehicle," they said.
As the summer winds down, there's still time to book your stay at the Sanderling Resort for a getaway. For more information about the resort, visit www.sanderling-resort.com.