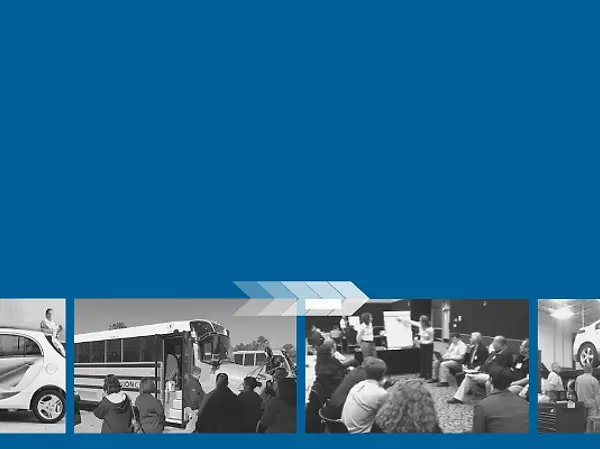 News Article
Plug-in NC's 2021 Summit Celebrates the Past and Drives EVs Forward
On August 27, 2021, Plug-in NC hosted its 2021 Summit, an annual event focused on progressing electric transportation in North Carolina through education and networking. This year, in honor of Plug-in NC's 10th anniversary, the summit took a drive down memory lane to celebrate the accomplishments of the past decade and then looked ahead to future developments. With a record-breaking number of more than 160 registered attendees, this year's gathering, held virtually, was another success.
Jacob Bolin, Plug-in NC program manager, kicked off the summit with an overview of Plug-in NC and a reflection on where it all began, including a slideshow, maps of EV registrations and charging infrastructure over the years and an update on Plug-in NC's current activities. Next, he introduced the keynote speakers, Stan Cross at the Southern Alliance for Clean Energy and Whitney Schmidt at ChargePoint. As leaders in the electric transportation movement, these speakers shared the value of supporting EVs for businesses, municipalities, higher education institutions and beyond.
In his presentation, Stan covered the current state of EVs in North Carolina and the United States. His analysis, drawn in part from a report coauthored by Atlas Public Policy, revealed a sales dip at the start of the COVID-19 pandemic in 2020, but an exciting incline since. As North Carolina aims to reach the state's Executive Order 80 goal of 80,000 EV registrations by 2025, Stan pointed out that we're contributing to the worldwide momentum to ban the sale of gasoline-powered light duty cars and trucks by 2035.
While Stan provided insight from a manufacturing and vehicle perspective, Whitney pointed us in the direction of charging infrastructure. Delivering her presentation using the Wi-Fi in her own EV, Whitney used data from charging stations in smaller towns to reveal their impact on economic development in rural areas. She took us on a deep dive into three locations: Marion, Oriental and Hamlet, North Carolina.
After the keynote presentations, attendees split up into breakout rooms. Each session was moderated by representatives from North Carolina's Clean Cities Coalitions: Centralina Clean Fuels Coalition, Land of Sky Clean Vehicles Coalition and Triangle Clean Cities Coalition. The sessions concluded with a question-and-answer segment.
The first breakout session examined the role of electric utilities in the EV evolution. We heard from Diane Huis with North Carolina's Electric Cooperatives, Donald Hamilton with Duke Energy, Phil Bisesi with ElectriCities and Adam Birdsong with Dominion Energy. The presenters discussed efforts that their utilities have pursued to promote electric transportation, from electric fleets to electric school buses to charging infrastructure and more.
In another breakout room, participants heard from guest speakers Tom Rhodes and Leah Cooper as they shared the benefits of hosting charging stations and tips on how to promote them. Tom, from the NC GreenTravel Initiative, provided insight on how businesses can improve their brand by becoming a recognized NC GreenTravel destination when charging infrastructure is installed. And Leah, from Sierra Nevada Brewing Co., shared firsthand experience of how sustainability efforts, including installing EV charging stations, have led to positive outcomes for the brewery.
In the last breakout session, attendees tuned in to what's happening with electric fleet initiatives in the state. Erika Ruane, from the City of Charlotte Sustainability Office, shared Charlotte's accomplishments, plans for the future, efforts to improve infrastructure and policies surrounding EVs. Tyler Dewey and Andrew Hinz, from Duke University, then explained how the institution's Climate Action Plan is supporting EV initiatives and furthering its mission to become a carbon neutral campus by 2024.
As the summit came to an end, we heard more from Jacob about what's next for Plug-in NC and how everyone, from EV drivers to local businesses and other stakeholders, can continue to stay involved. To help further EV adoption in North Carolina, attendees were encouraged to become Plug-in NC members or ambassadors, follow us on social media, share their success stories and join us at EVents, such as National Drive Electric Week.
From all of us at Plug-in NC, thank you for your support and participation in the summit. We look forward to many more!
Click below to download the presentations from the summit: