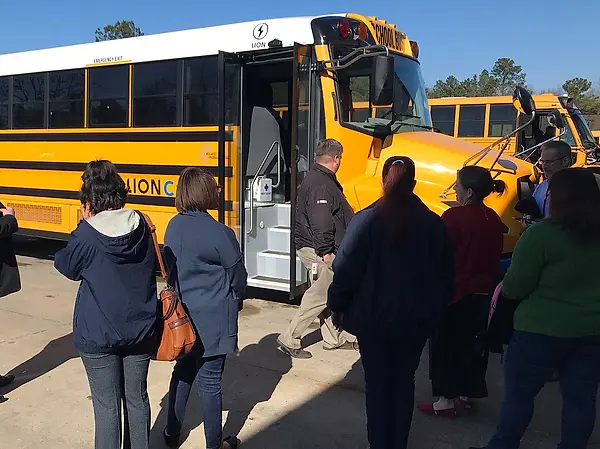 News Article
Purchasing and Policy Considerations of Electric Vehicles for Organizations, Fleets and Municipalities
On the heels of North Carolina's Volkswagen Settlement Phase 1 award announcements, the second webinar in our three-part series with the state's Clean Cities Coalitions shed light on electric vehicle (EV) purchasing and policy considerations for organizations, fleets and municipalities.
The event featured Bill Eaker, senior environmental planner at the Land of Sky Regional Council of Governments and coordinator of the Land of Sky Clean Vehicles Coalition; Mark McGrew, senior sales manager at Lion Electric; and Chris Davis, fleet manager of the City of Charlotte Department of Transportation.
Funding Mechanisms and Opportunities in North Carolina and Beyond
North Carolina is home to several EV funding mechanisms that Eaker covered. The most significant at the moment is the Volkswagen Settlement, which arose out of the Volkswagen diesel emissions scandal (the auto manufacturer was found to have violated the Clean Air Act by installing on vehicles software that cheated federal emissions tests).
North Carolina received $92 million from the Settlement, and Gov. Roy Cooper selected the North Carolina Department of Environmental Quality (NCDEQ) to be the administrator of the funds. The NCDEQ is dispersing the funds in two or three phases over the next few years.
The Volkswagen funds can be used for a variety of purposes. For example, they can support replacing or repowering Class 4-8 diesel vehicles; medium- and heavy-duty transit, shuttle and school buses; and medium- and heavy-duty local freight trucks (dump, delivery and refuse trucks) with EVs and other alternative-fueled vehicles.
In addition, North Carolina allocated the maximum 15 percent of its funds to deploy EV charging infrastructure.
In July 2019, the NCDEQ opened the application window for two requests for proposals (RFPs) for Phase 1 of the Settlement. These RFPs were awarded in July 2020. Through the , North Carolina will receive six electric school buses and nine electric transit buses. Through the Zero Emission Vehicle Infrastructure Program, the state will add 33 DC fast charge stations (with 48 total charging ports), primarily along priority highway corridors.
A third Phase 1 RFP, on Level 2 charging infrastructure, will be released later this year. This program will have a rebate structure with approximately $1.1 million available for public access, workplace and multiunit dwelling charging stations. It will be administered on a first-come, first-served basis, so it is important to get ready early.
Planning for Phase 2 (which may combine with Phase 3) will likely begin in early 2021, with RFPs coming out later that year.
After discussing the Volkswagen Settlement, Eaker highlighted additional funding opportunities.
Diesel Emissions Reduction Act (DERA): The Diesel Emissions Reduction Act is a federal program administered by the U.S. Environmental Protection Agency. A portion of funds are allocated to individual states, and in North Carolina, the program is administered by the NCDEQ. Through the program, both public and private entities can apply to replace older Class 5-8 diesel vehicles with electric models. The program's current cycle closes the end of September.
Congestion Mitigation and Air Quality Improvement (CMAQ): The Congestion Mitigation and Air Quality Improvement Program is another federal program that can fund alternative-fueled vehicles and infrastructure projects. In North Carolina, this program works through the Department of Transportation. A large portion of funds is allocated to metropolitan and rural planning organizations.
The North Carolina Clean Energy Technology Center set up its own subgrant through the CMAQ, known as the Clean Fuel Advanced Technology (CFAT) project. This initiative follows the same criteria as the CMAQ but is open to public, private and nonprofit entities. EV and charging infrastructure funding is available, but some restrictions apply.
Federal Transit Administration Low or No Emission Program Grants (Low-No): The Federal Transit Administration Low or No Emission Program Grants can fund public transit and shuttle buses as well as maintenance facilities and training. Over the last few years, most of these funds have been awarded to battery-electric transit buses and infrastructure, and several entities in North Carolina have taken advantage.
Proposed Duke Energy NC Electric Transportation Pilot Program: Duke Energy has proposed before the North Carolina Utilities Commission a $76 million Electric Transportation Pilot Program for North Carolina. This pilot is still under review, but it proposes to offer funding for charging stations and buses.
For assistance exploring these and other funding opportunities, be sure to contact your local Clean Cities Coalition or state program administrators. They are happy to help guide you through the process.
Recommendations When Considering Medium- and Heavy-Duty Electric Trucks
For the past 4.5 years, Lion Electric has been exclusively building EVs. The manufacturer has focused on commercial medium- and heavy-duty vehicles, including shuttles, trucks and school buses, and has accumulated over 4 million electric miles between the U.S. and Canada.
Based on the company's experience, McGrew, senior sales manager, outlined five broad areas to consider if you're looking to make the switch to electric.
Does Electric Fit My Needs?
The first step is to determine the types of vehicles you operate today and what comparable electric options are offered. Electric versions of a variety of medium- and heavy-duty vehicles are already on the road, and many more are coming. Be on the lookout for refuse trucks, bucket trucks, utility trucks, tractors and more.
Understand the Economics and Total Cost of Ownership
Medium- and heavy-duty EVs still cost more upfront than their diesel counterparts (though parity isn't far off), so it is essential to consider total cost of ownership and the return on incremental value. Factor in your current energy and repair costs versus the benefits of going electric; calculate annual savings over the life of the vehicle (which is expected to be about 12 years for electric trucks); and assess how long it will take to go from the diesel to the incremental cost of electric. Working with partners who are transparent and open about this information will give you more confidence in your transition.
Explore Financing and Grant Opportunities
Explore and take advantage of the funding mechanisms available to you. Seek out the opportunities mentioned above and others that may be offered by your local electric utility. Rental and leasing options may also be available. Partner with original equipment manufacturers (OEMs) and your local Clean Cities Coalition to make sure you understand how to work through everything.
Evaluate Infrastructure and Engage Your Utility and OEM Early
Getting the appropriate charging infrastructure for your vehicles and site is critical. Start early in the process and engage your electric utility so you don't get caught off guard later. Conduct a site visit with your utility to gauge what power you have today and what you may need down the road, and be sure to explore both Level 2 and DC fast charge options.
At the same time, connect with your OEM, who can guide you through vehicle and battery pack offerings.
Provide Training to Employees
You'll want to make sure that your drivers and technicians have the appropriate training for EVs. Although less training is required for EVs than for other vehicles (because EVs have significantly fewer parts), it is still necessary to keep them going reliably and safely. If something does go wrong, ensure parts are stocked locally or nearby to reduce downtime.
Also, take advantage of the vehicles' telematics, which will help gauge performance and operation, and can support total cost of ownership calculations and even productivity.
Charlotte's Electric Journey
In 2010, the City of Charlotte crafted a fleet policy to use effective, efficient, environmentally sustainable vehicles. One year later, the city was awarded funding to purchase its first seven EVs and add Level 2 charging stations.
Fast forward nearly a decade, and Charlotte now has 17 EVs and more than 50 charging stations, with plans to purchase 20 more vehicles this fiscal year and to install 38 additional charging stations.
How did the city do it? According to Davis, fleet manager of Charlotte's Department of Transportation, it took a combination of leadership, vision, supportive policies and effort.
Charlotte decided to pursue EVs because of its commitment to safeguarding the environment and to its people. In 2018, the Charlotte City Council passed the Sustainable and Resilient Charlotte Resolution and the Strategic Energy Action Plan, which targeted deep reductions in carbon emissions and a goal to source 100 percent of the city's energy use for buildings and fleets from zero carbon sources by 2030. That same year, the city won a $2.5 million grant through Bloomberg's American Cities Climate Challenge, which brought new advisors, resources and expertise.
More specific to EVs, the city developed its Sustainable and Resilient Fleet Policy, which guides Charlotte to purchase the lowest-emissions vehicle available for a job, and the Automatic Vehicle Locator (AVL) Policy, which requires that such devices be installed in city-owned vehicles to provide data for fleet tracking and management.
These approaches have been critical to moving forward with guidance and oversight, and to ensure the transition to EVs goes smoothly and aligns with organizational goals. Today, the AVLs, total cost of ownership calculations and thorough policies all help drive the city's purchasing decisions.
It hasn't all been smooth for Charlotte, though. Some difficulties have cropped up along the way. For example, there were some learning curves and misconceptions to overcome. Fortunately, these mostly subsided with time, as drivers gained more experience with EVs and as the technology improved. In addition, and as mentioned earlier, EVs require some new skillsets for technicians, and training programs so far are limited.
Still, for Charlotte, what started with a commitment a decade ago, continues to be realized thanks to the buy-in the city has been able to grow.
More to Come
The last webinar in our medium- and heavy-duty vehicle electrification series will cover utility engagement and considerations for electrifying transportation. Stay tuned for more details, and if you missed our first webinar, you can read a recap here and watch a recording here.