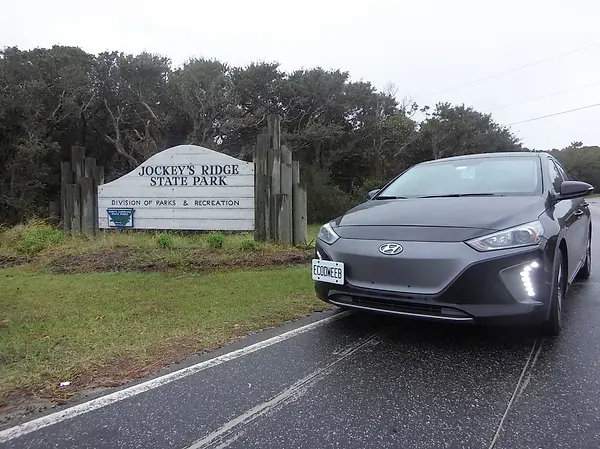 News Article
The North Carolina State Parks Amazing Adventure Challenge: Driving Electric to 41 Parks
About the Author: Plug-in NC Ambassador Chris Maxwell lives in Raleigh and is curator of the ecodweeb blog. Since 2016, he has been leading by example to promote electric vehicles (EVs) and renewable energy across North Carolina. Chris and his solar-powered fleet of EVs has been profiled by ChargePoint (part 1, part 2) and Plug-in NC.
In August, WRAL ran a story about a local family who has committed to completing the North Carolina State Parks Amazing Adventure Challenge by the end of the year. The Amazing Adventure Challenge is a part of the State Parks Passport program, which rewards you with a prize pack for every 10 parks you visit and collect a stamp at in your Passport book. Prizes include outdoor gear, gift certificates to Great Outdoor Provision Company and, the grand prize — if you collect stamps from all 41 state parks — an annual activity pass (a $60 value) for the next year.
When I saw the story, I wondered if anyone had completed the challenge with an EV. I decided that I wanted to attempt it with two of my own: my brand new 2019 Hyundai Ioniq sedan (124-mile electric range) and my beloved 2017 Energica Eva motorcycle (70-mile electric range).
Part of this journey was driven by mourning. I lost my clean energy mentor to cancer in July, and completing this challenge was a way that I could promote the clean energy vision that he and I shared. The friends I took with me on this journey also knew and were deeply touched by the loss of my mentor, and we processed our loss together in an electric car.
I began my journey on August 21, 2019, in Raleigh and completed it on November 3, 2019, in Burnsville, possibly setting a record for completing the challenge in under 90 days. I blogged about the journey on Instagram and my Tumblr blog, which is how Plug-in NC found out about the adventure and asked me to write this post. I drove my Hyundai to 37 of the parks and rode my Energica to the other four, using PlugShare to plan the routes. I took a few days off from work to accomplish the challenge, but I visited many of the parks on weekends or after work. Some of my trips were solo, while others were with friends and loved ones, and I made many memories over the 5,000+ miles that I traveled to collect park stamps.
I visited 10 parks in the first three days and only paid $22 in charging fees to do it. I started at William B. Umstead State Park on Wednesday, August 21, on my way home from work. I dropped into the park office where the agent gladly stamped a new Passport book and handed it to me. The next day, I went to visit a friend of mine who was recovering from heart surgery at Duke University Hospital in Durham, which recently installed pay Level 2 charging stations in the visitor parking garage. After the visit, I popped over to Eno River, where I also collected the Occoneechee Mountain stamp (Occoneechee doesn't have a park office). If you live in the Triangle, you really should watch the sunset from Occoneechee, it's breathtaking. From here, I headed south to Fayetteville by way of an 18-minute rapid charge stop at the Electrify America station at Raleigh's Pleasant Valley Promenade. When I arrived in Fayetteville, I rapid charged for free at the Harley-Davidson dealership and talked to the staff about the upcoming LiveWire motorcycle. After charging up to 80%, I continued across town to the house my buddy Brad was house sitting. I plugged my car into a regular house outlet to let it slow charge overnight while we had dinner and planned our journey for the next day.
Our plan was to visit six state parks on Friday, August 23: Jones Lake, Singletary Lake, Lake Waccamaw (my favorite park), Lumber River, Weymouth Woods and Carvers Creek. I also stopped by Raven Rock on my way home. We did this entire 300+ mile trip with two rapid charges that cost less than $13 and added a little over an hour to our total travel time. We enjoyed coffee at the Leland stop and had lunch during the Lumberton charge. I charged once more (for free) at Harley-Davidson on my return home at the end of the day. I got a signature for completing 10 park visits at Raven Rock, which earned me my first prize!
I spent Saturday, August 24 visiting four more parks close to Raleigh with my friend Seth: Medoc Mountain, Kerr Lake, Falls Lake and Jordan Lake, with charge stops in Wake Forest and Rocky Mount. After work on Monday, August 26, I went to Cliffs of the Neuse by way of the new Carolina Premium Outlets rapid chargers. After work on Wednesday, August 28, I visited Haw River, Mayo River, Hanging Rock and Pilot Mountain, with charge stops in Greensboro and Winston-Salem. This put me at 19 parks — one more and I'd win another prize!
I had a small fender bender before I got my 20th stamp from Merchants Millpond on August 30, and I drove there and then to Dismal Swamp and Pettigrew with a busted-up front end. This trip was one with lots of waiting — the only rapid charger was in Rocky Mount, and I depended entirely on Level 2 charging in Tarboro, Elizabeth City, Edenton and Greenville to complete the journey. The total charging cost to visit these parks was less than $8.
On Sunday, September 8, I decided to embark on a 1,400-mile trip to Louisville to pick up an eBay purchase. Along the way, I stopped off at Crowders Mountain to collect my 23rd stamp. After this trip, I dropped the Hyundai off for body repair and used my motorcycle to visit the next four parks.
I started out on Friday, September 20, on my Energica Eva motorcycle to visit Fort Macon, Hammocks Beach, Fort Fisher and Carolina Beach. I followed the back roads to maximize my range on the motorcycle, which can go only about 70 to 80 miles between charges. I had a charging problem on this trip when I got to New Bern: The medical center's chargers were both in use! I called The Aerie Bed and Breakfast, and they graciously allowed me to use their charger.
I'm not going to lie, I was bored out of my mind waiting for the bike to charge in Swansboro. Some of these charging stations are located in places that are not tourist or walking friendly, which is my biggest critique of EV travel today. After what felt like an eternity, I made it over to the free fast charger in Wallace and then down to Carolina Beach for the night. After a good night's sleep, I collected the last two stamps and headed back home. My total charging cost for this trip was just over $9.
On October 4, I headed down to Morrow Mountain after work. This trip revealed an issue with my car: The 12-volt battery died after charging in Greensboro on my way down to the park. A kind passerby, who had stopped to ask about my car and the charging stations, jumped the battery so I could continue my journey and get my 28th stamp. The battery died again overnight and was ultimately replaced under warranty by Hyundai the following week. I've had no issues with the car since, thankfully.
I had intended to collect the Goose Creek stamp on August 30, but charging times prevented me from getting to the park office before it closed. So, on October 19, I set out to collect it and the Jockey's Ridge stamp, which would make 30 parks visited. While I was on the Outer Banks, I had lunch at the wind-powered Outer Banks Brewing Station to charge. This trip felt like the longest due to the rain and slow Level 2 charging, but the 500-mile trip cost me $0 thanks to all the free charging stations along the way. I now had 11 parks to go, determined to visit them over three more journeys.
I took October 23 off from work so that my friend Stephen and I could visit eight of Western North Carolina's parks. We managed to visit only five because one of the rapid charging stations we depended on was offline for service. The parks we did get stamps from were Elk Knob, Grandfather Mountain, Mount Jefferson, New River and Stone Mountain. It was on this trip that I learned something very important about my Hyundai…it has a feature called "Automatic Defogging System," which monitors the humidity and will automatically defrost the windshield. Because my car doesn't have a heat pump (it has a power-hungry resistive heater), I was unaware that it had turned the heater on full blast to remove the smallest amount of fog that had accumulated at the edges of the windshield. Here I am driving along, singing to my music, when I look at my remaining range and see that I went from a buffer of 20 miles to being 2 miles short. I pulled over and read the owner's manual on how to turn off the defogging system, because it ran even when I turned off the HVAC controls. Once I figured out how to turn it off, we had just enough range to make it back to Greensboro to charge: We arrived with 3% power. Despite that scary learning experience, we completed the mission and spent a mere $33 for 563 miles of travel.
Because we didn't get to three of the parks I'd intended to visit, I went by myself to collect their stamps the following Saturday (October 26). I drove 505 miles for less than $31 to visit Lake James, Lake Norman and South Mountains. I was in the home stretch now! Just three parks to go, and all were near-ish Asheville.
On November 2, my spouse and I loaded up in the Hyundai to spend the weekend in Asheville. We stopped by Chimney Rock on the way, checked into our Airbnb and relaxed before we completed the big adventure. I'd planned to go to Mount Mitchell and then Gorges, but due to the cold snap (it was 34F when we woke up!) and my fear of using the heater, I decided to err on the side of caution and visit Gorges first. There was ample Level 2 backup charging should we be cutting it close on range, while there were no stations along the route to Mount Mitchell.
I also had a bright idea while rapid charging the car at the Asheville Outlet Mall, knowing the Hyundai's traction battery is heated and cooled by air from the HVAC system. Being the ecodweeb that I am, I have a Bluetooth diagnostic port adapter and a program on my phone that lets me monitor the battery (called EVNotify, which is similar to Leaf Spy). While we were charging, I turned the car on and cranked the heat up to its max setting. We watched as the battery temperature increased from a blue-colored (meaning cold) 68F to a green (meaning ideal temp) 74F. This little hack increased our range significantly, and we needed to run only the fan for the rest of the day. After we visited Gorges and got the 40th park signature in the book, we took off for the highest point in North Carolina: Mount Mitchell.
Of all the trips I'd taken on this adventure, Curtis Creek Road was the most challenging, and it was actually the most challenging I had ever driven in my life. It is a cut-through from US 70 to the Blue Ridge Parkway, and it cuts right through the heart of the Pisgah National Forest. It is unpaved, two-way traffic and rutted like no tomorrow. I wasn't sure if the car would have a usable suspension system if we survived the 10-mile drive along this winding mountain road. We did survive, and we got to the Mount Mitchell park office with 2 miles less range than needed to return to the Asheville fast charger. Luckily, we added 15 miles of range going back down Curtis Creek Road! When I went into the park office, I told the ranger that this was my last park before I handed him my Passport book. He got really excited and told me that he'd never signed one of the books before and that he was proud to sign mine. We stayed one more night in Asheville and then made our way home (by way of Charlotte and IKEA), with me thinking about all the things I had learned. All said and done, this final leg was 853 miles and cost less than $79 in charging.
In total, I logged more than 5,300 miles and spent $253 to do it. That's a little less than 5 cents per mile, which I think is mighty acceptable. Now, onto my next adventure: completing the Iron Butt 1,000-miles-in-24-hours road rally on my Energica electric motorcycle.