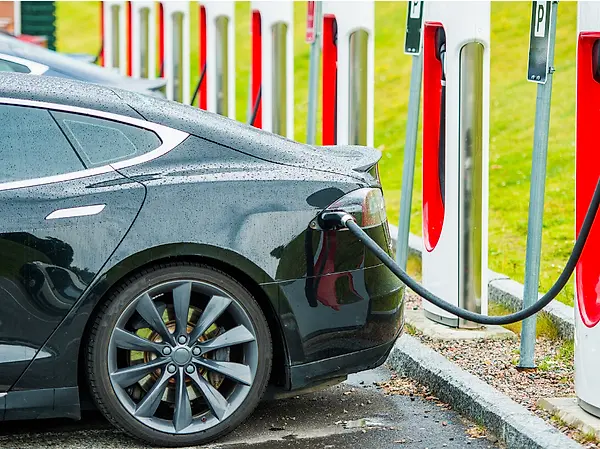 News Article
Using Public EV Charging Stations
You just got an electric vehicle (EV) and are ready to take it for a spin, but what if you need to charge while out and about? Using a public charging station for the first time can be intimidating. There are different charging providers with different steps to plug in using different pricing structures. After all, we might not be used to speaking in terms of kilowatts and kilowatt-hours.
This article provides an overview of how to charge in public. The best way to get your feet wet, though, is to go test out a station yourself. If you get stuck, see if another EV driver is around to ask for help!
Charging Networks and Apps
Many public charging stations fall under a charging network. In North Carolina, common ones include ChargePoint, EVgo, Electrify America, Blink and Tesla's own Supercharger network. These networks can dictate several aspects of the charging process, like pricing and how to initiate charging.
It can be useful to sign up for the networks you think you'll be using (and some, like ChargePoint, require making an account before using their chargers). Each charging network also has its own mobile app. Although the apps may not be required to charge, they can provide valuable features, such as letting you locate chargers in their respective network and showing if plugs are available (roaming between networks may also be an option), sending updates about the status and cost of your charging session, and allowing you to store payment.
In addition to network-managed apps, there are other popular tools and websites that can help you locate charging stations, including PlugShare, A Better Routeplanner and Chargeway. These are not tied to specific charging providers, so they let you find stations across networks. Your in-car navigation system may also direct you to charging stations. This is a particularly beneficial perk of Tesla vehicles.
The networks that set pricing, such as EVgo, Blink and Electrify America, may offer different levels of membership. Being a member may entail paying a monthly fee in exchange for lower electricity prices while charging. If you think you'll be using a network with any frequency, it's worth determining whether membership — if it exists — makes sense for you. Occasionally, vehicle manufacturers will partner with a network provider to offer discounted or free charging rates for a period of time. In other situations, pricing is set by the site hosting the charging station.
There are also charging stations not associated with any network. These "non-networked" stations typically provide Level 2 charging and may lack some of the features afforded by networking, such as remotely operating or tracking the status of a charging session, or even soliciting payment for charging. Examples of non-networked station manufacturers include ClipperCreek and Bosch.
Charging Connectors
Individual EVs only work with particular charging connectors. In the U.S., non-Tesla vehicles use what's known as the J1772 plug for Level 2 charging and either a CHAdeMO or CCS (Combined Charging System) connector for DC fast charging.
Tesla vehicles have a proprietary connector that supports both Level 2 and DC fast charging (known as Supercharging). However, adapters are available in some cases to allow charging with a different connector.
When searching for charging stations, make sure you are only including ones that support your vehicle. Many apps let you specify your EV model and will solely display stations you'll be able to use. Often, non-Tesla DC fast charge stations contain both CCS and CHAdeMO connectors.
Steps to Charge
No matter what charging station you stop at, the basic steps to charge will be the same, though their order may differ slightly. Here's what you can expect to do:
Open your charge port door
Plug the charger into your EV (note that charging cables can be heavy and difficult to maneuver)
If available, follow prompts on the charging station's display or network app to initiate charging

If the station requires payment, this is either accomplished through your app or a credit card reader
Networks may also provide an RFID access card that you can use to begin charging

If available, keep up with your charging session on the display or in your app. You'll typically be able to see your battery's charge status (known as its state of charge), how much power it is drawing and your cost so far. Your vehicle's dashboard should also provide information
When done charging, disconnect and move your car
Below, we go into more detail about the charging process of a few charging networks.
ChargePoint
As mentioned earlier, ChargePoint requires an account (it's free) in order to use its charging stations. Once you arrive at a station, hold your phone with the app open (or an RFID card, if you received one) near the charging station's reader. You should hear a beep, and then you're good to plug in. When you're done, you can end charging on the station or in your app (or swipe your card) and unplug.
EVgo
With EVgo stations, you'll open your charge port, plug in and then initiate the charging session using either the app or display on the station. If you've signed up for an account and added payment, you should be all set. Otherwise, many stations offer credit card readers. When you're done, press "End Session" or "Stop" on the display or in your app and unplug.
Electrify America
Like with EVgo, you'll first plug in the connector at an Electrify America station and then follow the prompts on the station's display or on your app. If you've signed up for an account and added payment, you should be all set. Otherwise, many stations offer credit card readers. When you're done, press "Stop" on the display or in your app and unplug.
Blink
At Blink charging stations, you can plug in and then initiate charging using the mobile app (whether or not you're a member) or your Blink RFID card while following instructions on the station's display. When you're done, just unplug.
Tesla
Tesla has the most seamless charging experience. Their chargers don't have screens or credit card readers — they'll recognize your vehicle once you back in and park (given the location of the charging port on Tesla vehicles, it's best to back in), and everything else is handled through your account/the app.
Tap your charge port door to open it — tapping the charging connector works, too — plug in, and you're all set. When you're done, press down on the connector, wait for the light by the charge port to turn white or light blue, and unplug.
Other Charging Providers
We've covered some of the most popular North Carolina charging providers in this article, but you may come across others throughout your travels, such as Shell Recharge (formerly Greenlots), SemaConnect and NovaCharge. Now that you know the basics of public charging, hopefully using one of these additional networks won't be so scary.
Charging Etiquette
One final topic to keep in mind is public charging etiquette. Here are practices worth following:
Leave any station as you'd like it to be found, i.e., ready for the next driver. This entails, for example, putting back the charging connector before you head out.
Try to move your EV as soon as it's done charging to give others a chance to use the station.
Avoid unplugging other EVs unless their drivers have left a note indicating it's OK to do so (and conversely, consider leaving a note on your own car if you're OK with it being unplugged while you're away from the station).
Don't treat a charging space as just a parking spot — only stop if you're going to plug in and charge.