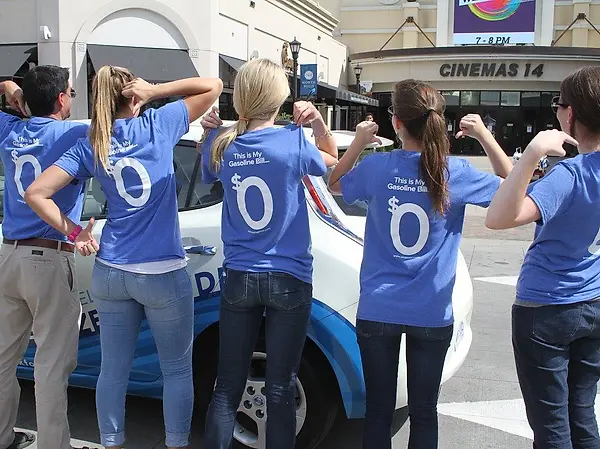 News Article
Why Do Our Ambassadors Love Their Electric Vehicles?
For many, owning an electric vehicle (EV) not only refers to a mode of transportation, but it describes a lifestyle and passion. From longtime electric vehicle owners and enthusiasts to newcomers interested in the developing technology and environmental benefits, Plug-in NC is lucky to have very passionate and knowledgeable ambassadors.
For Tiffany Alexy, her interest in cars and environmental sustainability led to her very own Tesla Model S. The first time Tiffany saw the Model S she knew it would be hers one day and immediately went home to buy stock in the company at $32 a share. As a real estate agent, Tiffany's Tesla is popular among her clients, "They love riding in it when we go see houses and I just love driving it. I smile every time I walk into my garage," she exclaims.
Last month Jamal Jordan became the owner of a plug-in hybrid Ford C-Max Energi and noticed the benefits of driving an electric vehicle almost instantly. With around 3,000 miles on his EV, Jamal explains that his C-Max Energi gives him "the best of both worlds." Also being a real estate agent, he loves the ability to complete his close-to-home drives on all electric while still maintaining comfort and efficiency during the longer distances. Jamal likes to stay up to date on the progress of electric vehicles in North Carolina and looks forward to being involved in Plug-in NC.
Chris Browder is the owner of "Gopher," a 2013 Smart ForTwo Cabrio Electric Drive that has been with him for about a year and 13,000 miles. Chris had been a devoted Volkswagen driver until a friend convinced him to go electric. Two days after returning his "dirty diesel," Gopher arrived. "I still remember the excitement of seeing Gopher on the truck," Chris recalls. Gopher's arrival in the family opened the doors to "the great electrical renovation of 2016" in Chris's home, appropriately named the Brentwood Solar House. Chris has installed 12 solar panels, an Aerovirnment TurboCord Dual charger and a Level Two ChargePoint Home charger. To date, he has offset around 90 percent of Gopher's driving with solar power! Chris was even able to take Gopher all the way to Myrtle Beach and back, a 427 mile trip. He says, "I decided to put America's shortest range EV currently for sale to the test." In addition, Chris and his spouse, John, also own a BMW i3 and a Zero SR Electric Motorcycle. To say the least, Gopher's addition to the family made a major impact.
Jerry DeWeese and his wife are the proud owners of a Chevrolet Volt. Jerry's decision to support alternative energy began on Sept. 11, 2001, when he witnessed gas prices jump 80 cents in one day. "That event, along with many others since, was an example of how volatile and unsecure our petroleum supply had become," Jerry explained. "I decided that if there ever became a viable alternative that could reduce our country's addiction to oil, I would do what I could to support it."
In 2011, Jerry honored that promise by purchasing his "no frills" 2012 Volt, being one of the first to have an electric vehicle on the road in Western North Carolina. In addition to the stress-free maintenance of his Volt, Jerry says "the instant acceleration, torque and silence make this car fun to drive." After 87,000 miles on his car, Jerry has loved the experience of owning an electric vehicle and looks forward to purchasing the "latest-and-greatest" from GM. He is optimistic about the future of electric vehicles, revealing, "I truly believe we are on the verge of a turning point with these vehicles. …There are some who still don't believe that EV cars are ever going to be mainstream vehicles, but we used to burn oil in lamps too!"
Everyone's journey to electric vehicles is different but the outcome is unanimous—our ambassadors LOVE their EVs, and Plug-in NC is very fortunate to have such enthusiastic advocates. Thank you to everyone who shared their story and thank you to all of our ambassadors and members for their continued support of electric vehicles!