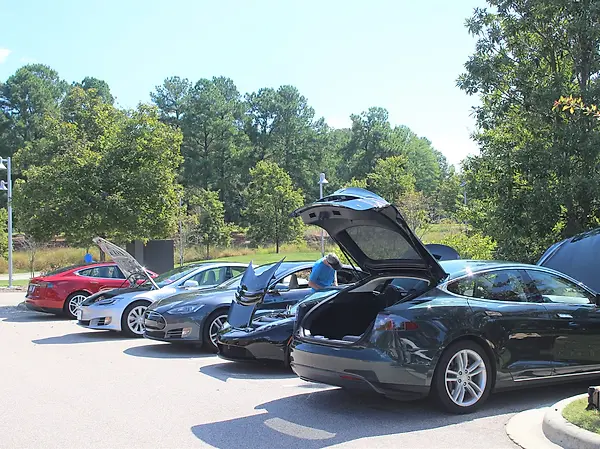 News Article
What to Consider When Looking to Buy a Used EV
With gasoline prices remaining at record-high levels, more people are considering electric vehicles (EVs). However, increasing demand, coupled with continued supply chain constraints, means new EVs are hard to come by, and they remain more expensive upfront than comparable gasoline cars.
The used EV market has not been spared from the issues plaguing new inventories, but there are now more options than ever. If you have your eye on a used EV, here are a few areas to focus on, in addition to the usual suspects (vehicle mileage, interior and exterior, and maintenance history).
Battery Life and Health
The number one concern for used EV shoppers should be the health of an EV's battery. Battery performance will affect an EV's range, and replacements are not cheap. All EV batteries do degrade over time — some more than others — but improvements in battery technology and management systems mean that many of the concerns of even a handful of years ago are not as prominent today.
Unfortunately, few EVs provide easy-to-access insight into the condition of the battery (the Nissan LEAF does, but its indicator can be tampered with to make the battery appear healthier than it is). So, when checking out a used EV, ask to see its estimated range when fully charged. You can compare that value to the model's U.S. Environmental Protection Agency-rated range to get an idea of how the battery has held up. See if the dealership can give you a report on the battery's health (independent companies are working on this) and ask if it's been replaced (unlikely but possible).
Today, all EVs come with at least an 8-year/100,000-mile battery warranty, so check on the status of that with any model you're considering. Read the fine print as well to ensure the warranty transfers to new owners. If you're uncertain, contact the manufacturer to confirm.
Charging Needs and Use Cases
For any EV purchase, used or new, you'll want to go into the process having thought about how and where you'll charge. Do you plan on charging at home? If so, will you install a Level 2 charging station or try things out with a regular 120-volt outlet to start? What options do you have for public charging nearby or around places you frequent?
Make sure any vehicle you're looking at comes with a charging cord. If you're buying from a private seller, you could ask if they're interested in selling their home charging station if they have one.
Your charging needs will also depend on how you plan to use the vehicle and your driving range requirements. For example, are you looking for an EV that will mostly handle commuting and daily driving, or one that you can take on longer trips, too? Identifying the intended, and most important, use cases for your vehicle is crucial for a satisfied purchase.
Many EVs on the used market might not offer the range or charging speeds of newer models — the technology has improved significantly even over just the last couple of years. In some cases, that might be a deal breaker; in others, it might be just what you need. For instance, a long driving range might not be essential if you have access to home or workplace charging or if you don't expect the EV to be your main "road trip vehicle" (this applies mostly to families with multiple cars).
If you are looking for a car to take on longer trips, verify that the EVs you're evaluating include a DC fast charge port. Today, most EVs — battery electric vehicles in particular — come with DC fast charging capability by default. However, some models, such as the Chevrolet Bolt EV and Nissan LEAF, have had it as an option or only on certain trims. In addition to checking for DC fast charging, look up what the cars' max or "acceptance" charging rates are. This is the maximum amount of power they can take while DC fast charging, and it will affect how fast your fast charging will be (learn more here).
Tax Credits and Rebates
Used EVs do not qualify for the up-to-$7,500 federal income tax credit, which is still in effect for new EVs from most manufacturers (though not Tesla and GM). Other incentives may apply, however. In particular, see if your electric utility offers rebates or special electricity rates for EV drivers.